One-Act Play Steals the Show
Student director leads her cast to victory at competition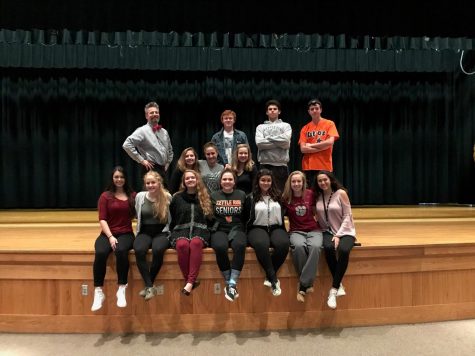 The cast and crew of Almost, Maine are celebrating a successful finish at the VHSL competition. The group performed at Sherando High School on October 21 where they tied with Sherando for first place. This was a huge accomplishment for the group since they received notice, last minute, that the conference was being moved from November 5 to October 21.
The cast and crew had to scramble to get their performance fine tuned and ready.
"We were able to get our show ready in time to compete and this alone feels like a big victory for our cast and crew," Tyler Fleet, theatre teacher, said.
Next, they head to regionals at Loudoun Valley High School on Nov. 18. If they get first place, they move on to states. Senior Rutger Scott, who plays the roles of Phil, East and Dave, is confident they will do well at regionals.
"I think we will get first place," Scott said. Scott was awarded best actor for his last performance and hopes to get it again at regionals.
"I was surprised but I feel like I earned it," Scott said. "I was confident because of the work that I had done with my scene partners and my director."
Elizabeth Nefferdorf, Colleen Pechin, and Fleet are part of the production team. Nefferdorf
said directing the show was easier than she thought it would be.
"It was surprisingly easy because they know where I'm coming from," Nefferdorf said of her cast. "We have similar theatrical backgrounds."
Pechin credits the mutual respect of the cast and crew for their success. "I do think that the respect level was big once you explained in detail what you wanted," Pechin said.
Cast member Ashley Jeffers is thankful to have such a supportive director. "It was definitely a new experience," Jeffers said. "It was fun, it was new, and I liked the change. She [Elizabeth] put all her heart into this show."
Scott was also proud of Nefferdorf."[She is] one of the few people I know who can maintain her personal connection with someone and yet command such an imposing presence and attitude."
Scott and senior Alaycia Smith have been part of the one acts for all four years. They have been to regionals four times under four different directors.
"It's been a lot of hard work and dedication over the course of [four years]," said Smith. "Every cast is different, but that's what makes it so cool. What I have taken ultimately from my experiences is that theatre is about creating art, and it doesn't matter how far you go in a competition. It just matters that you're proud of the art that you have made."
Leave a Comment