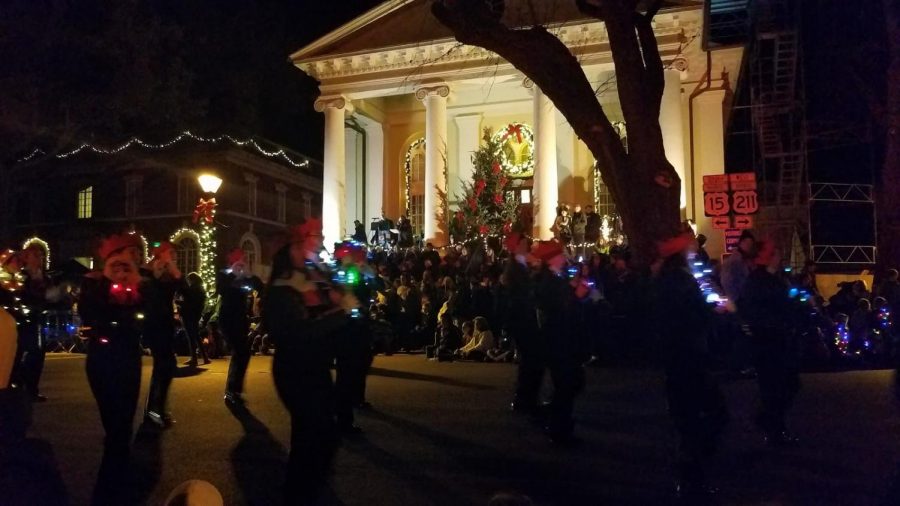 Being one of Warrenton's most popular events, Gumdrop Square is an event that gets the whole community involved. Students have the opportunity to attend and participate in this event in more ways than you think. From the Christmas Parade on November 31st to the end of the "Santa's Secret Shop" at Gumdrop Square on December 17th, the event is a blast for the whole family. Makenzie Simonton (Junior) "I remember when they brought out the horses as my favorite part of the parade."
There are many parts of this event that students can't wait to see. Lee Phillips (Junior) said, "I haven't been to the event before, but I'm looking forward to going for the first time with my family." Hannah Hunt (Senior) said, "I look forward to the annual lighting of the Christmas tree this year." There are also moments that we fondly reminisce about. Kaylee Duckett (Senior) remembers, "When I was little, I got my parents a gift from Santa's Workshop."  Scott Drotos (Junior) says, "My favorite part of the Christmas parade was the big, glowing tree in the middle." So, now that all these children have started growing up, how do students participate in Gumdrop Square and all its events?
The Christmas Parade is a big event for organizations to get their names out there through many separate means. Joshua Otten (Senior) "I'm going to participate by marching in the parade to promote my troop. We're going to decorate a truck and carry banners and flags behind it." Events like these can be great opportunities for students to get involved in a heavily anticipated public event. Zach Pursell (Junior) "I'm in the Christmas Parade as part of the Kettle Run Marching Band. It was and will be a great time." Some people have been long-time supporters of the event as well. Jackson Rolando (Junior) "I've participated in Gumdrop Square through the christmas choir since I was in fourth grade." Students have found many ways to serve their community and organizations by participating in Gumdrop Square.
With the holiday season upon us, we need to find ways to give to others. Tristan Beddingfield (Junior) "I remember that dollar gift shop that opened next to the court house every year and how I got presents for my family from that place." This is a simple gesture that goes a long way to the recipients. Isn't that what the holiday season is all about, making a positive impact on others? Whether spreading goodwill to others by supporting this community-wide event or volunteering in it, Gumdrop Square is a celebration of kindness.  "To be a VOLUNTEER or SPONSOR, contact us at: experience@oldtownwarrenton.org." Opening November 31st, this event can be your way to bring joy to the world in one way or another.