Cards, Candy, Carnations, and Cupid
There is dispute over the purpose of Valentine's Day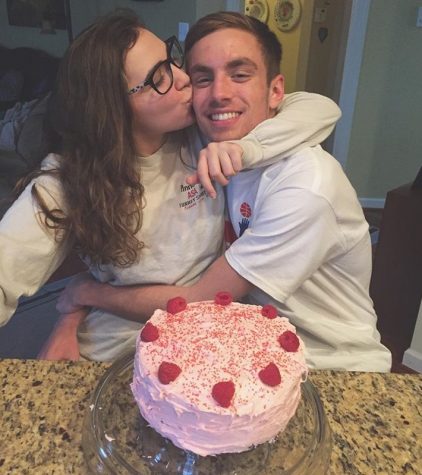 Flowers, candy, jewelry, and giant teddy bears come to mind when you think of Valentine's Day.
Some people think of February 14 as a Hallmark holiday, or a day celebrated for commercial reasons instead of for a significant historical event. However, the original purpose of the holiday goes all the way back to the fifth century and was first named for the Christian martyr, Saint Valentine.
Today, major companies and corporations push to advertise their products to consumers in hopes for large profits. Brands like Brach's, Cadbury, Hershey, and Nestle are only some of the well-known candy companies that play a major role in the making of Valentine's Day. Sophomore Madison Slevin thinks that the purpose of the holiday has been altered throughout the years by these companies.
"I think it's a really sweet holiday, but I find it to be much more commercialized by worldwide companies," said Slevin. "Every year it becomes more about economic growth rather than genuine sentiment."
Hallmark makes about 1,400 different greeting cards just for Valentine's Day. The amount of people who invest in their stock skyrockets each year in February due to the amount of revenue they make from the holiday. Sophomore Sara Hume agrees with Slevin's point of view.
"I think it's all commercial," said Hume. "I think that Hallmark just made the holiday so that they can make a lot of money off of it."
According to research conducted by time.com in 2016, Americans spent close to $20 billion on or around the holiday. About $4.5 billion of the total was spent on the entertainment aspect of the day, such as a fancy dinner or a trip to a movie theater. Senior Sarah Swift thinks this is a ridiculous amount of money to waste.
"Honestly, you don't need to spend much money, if any, on your significant other," said Swift. "You can make dinner or go get takeout and have just as much fun together without having to spend a bunch of money on a fancy restaurant."
The National Retail Federation predicted American consumers would spend $18.2 billion this year on gifts for friends, family, and significant others. The average person spent about $136.57 on anything ranging from candy and cards to chocolate hearts.
When asked how much money a person should spend on their significant other for Valentine's Day, Junior Josh Rigby said, "Absolutely no money at all. If there's one thing Valentine's Day has taught me, it's that I will never have a significant other."
While the season of spreading love may be over, some couples still plan on spoiling each other regularly. Junior Rutger Scott thinks any day is a day for giving love.
"My love does not begin and stop on Valentine's Day for anyone," said Scott. "'Loving' isn't only just meant for Valentine's Day for me."