Advanced Artists Display Their Talent
A new chapter of the National Art Honor Society is here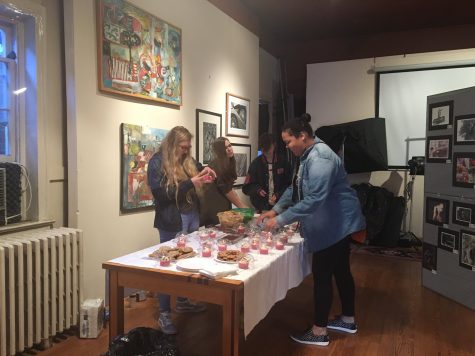 The next Picasso, Kahlo, or Van Gogh could be walking through the halls without your knowledge.
The brand new chapter of the Art Honor Society allows Kettle Run's advanced art students to showcase their work and improve their artistic abilities. The society was created in January of this year due to interest from students as well as insight from other chapters of the society.
Art and photography teacher Tisha Burke was inspired to push for the opening of the chapter by the National Junior Art Honor Society she ran at Auburn Middle School. Before the chapter was started at Kettle Run, the Auburn Middle School and Warrenton Middle School chapters were the only two existing art honor societies in all of the Fauquier County Public School system.
In an email, Burke wrote, "We currently have 26 members. Four are in AP Art this term, and one has already completed AP Art. Three of the freshmen were labeled 'GT' [Gifted and Talented] in middle school."
There are some requirements for students to be considered for application to the prestigious society. Once inducted, members are expected to maintain these academic requirements.
"Students have to have taken a level one class in either Art, Functional or Photography to apply but they do not have to be currently enrolled in an art class," wrote Burke. "This helps to keep those students interested in art, but unable to take it every term, involved with like-minded artists and continuing to make art."
Multiple Art Honor Society members as well as art students have some of their artwork featured in buildings around the center of the town. The artwork will be displayed throughout town until March 30. The Fauquier Hospital will be displaying the artwork in a student art show on their Gallery Wall until April 30.
"We currently have artwork in the art walk on Main Street and at the hospital," wrote Burke. "Students with work at the hospital are Lea Sharp, Helen Kachur, Kristin Robinson, and Kira Morgan. Students with work in downtown businesses are Sabrina Borgstrom, Kaitlyn Wood, Anna Vancheri, Leann Jones, Helen Kachur, Ivy Jaynes, Sarah Corbin, Taylor Nordike, Litzy Valdivieso, Abby Lamay, and Kira Morgan."
Other locations displaying student artwork from schools all across the county include the Black Bear Bistro, the Allegro Community School of the Arts, Drum and Strum, and Hidden Julles.
Students in the chapter have already started to get involved in service projects around town to earn volunteer hours.
"The members have shown an interest in getting art out into the community and want to reach out to our feeder schools to engage younger students in art-making," wrote Burke. "Several students, led by Savannah Johnson, did face-painting at Greenville Elementary's 'Beach Bash' last month."
The society's most recent project was a reception on March 11 in Old Town Warrenton. The purpose of the gallery showing was to jump-start celebrations for the Art Walk and Youth Art Month. The showing featured artwork from students in grades K-12 from all Fauquier County Public Schools.
Senior, and Treasurer of the society, Arleena Allen participated in the event.
"A decent amount of people showed up while I was there," said Allen. "But it was overall a great morning."
Because the chapter is brand new, the members do not have to earn a certain number of service hours, but have to maintain a 'B' average in all of their classes. Additionally, members are required to attend at least two of the society's monthly meetings.
"We are so new, so we haven't really established anything yet," wrote Burke. "We are still working out all the other details."
Though it has already accomplished many things, the Art Honor Society has plenty of tasks to complete. According to the National Art Honor Society website, "The NAHS strives to aid members in attaining the highest standards in art scholarship, character, and service, and to bring art education to the attention of the school and community." So far, the Kettle Run chapter has done just that.