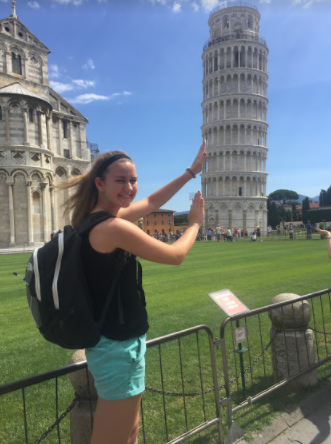 Students traveled all over the globe, from the western states of America to the hot expanses of Africa, Kettle Run students made memories in foreign tongues and cultures.
    Junior Sara Hume, junior Cosette Cusson, senior Sara Massei, and senior Rachel Walker, all traveled across the Atlantic to European countries for a better look at the world around them.
    "I went to Italy with part of my history class from Liberty, we went to learn about their culture and history. It was such a great experience, and it was so beautiful. The best part of the vacation was climbing the leaning tower of Pisa because it was like climbing a giant piece of history," said Hume. "I would love to go back."
    Cusson traveled to the Scandinavian Peninsula,"I went to Norway for a week, and I spent a day in both Paris and Amsterdam. It was a late birthday present from my parents. I went with my cousin, who's the same age as I am and we stayed with a Norwegian family her parents are close with. I would 100% go back! The landscapes and culture were so beautiful, I fell in love."
    "I went to Spain for a month with my "Spanish sister", Andrea," shared Massei. "We met last year through an exchange program and we've been practically sisters ever since! We stayed in her home town, Palencia, for two weeks and visited Santander and Madrid as well. The best part was being able to be with my second family again. A year is a long time to be apart. It was also great to be completely surrounded by Spanish and actually be able to understand [the language]."
    Walker traveled to mainland Europe as well, "I went to Munich and Freiburg, as well as France and Switzerland on an exchange program with German students. I went with Karissa McDonald and [other students in the] exchange group. My favorite part [of the trip] was when we found paddle boats in a small lake, but ended up flipping off of them at the end of the day. I would definitely go back! Such an amazing place and amazing memories."
    While Hume, Cusson, Massei, and Walker were crossing the Atlantic, junior Nicole Gray was exploring the extensive wilderness in Castle Rock, Colorado.
    "I went with my mom to Colorado in July to visit some family friends. I absolutely loved the entire trip, Colorado is so beautiful and has lots to see, including Garden of the Gods and Pike's Peak which were my favorite places to visit. It was also really nice to spend time with friends who I hadn't seen in years and to be able to see their new home. I would go back in a heartbeat."
    Once more across the Atlantic, junior Katie O'Connor took the trip of a lifetime.
    "I visited Kenya this summer and spent two weeks there with my dad's family. My grandparents love to travel and had visited Kenya four times prior to this trip, they decided that we should all go as a family and experience it with them. We were there for two weeks, so we got to see four different parts of the country: Nairobi, the Maasai Mara, Samburu, and Amboseli. My favorite part of this trip was the wildlife, all the amazing places we went had equally amazing animals."
    From our home country to foreign lands, Kettle Run students experienced the best the world had to offer during the summer of 2017 and can only hope the next one is just as good, if not better.