Saving Lives One Pint at a Time
HOSA sponsors blood dive to help those in need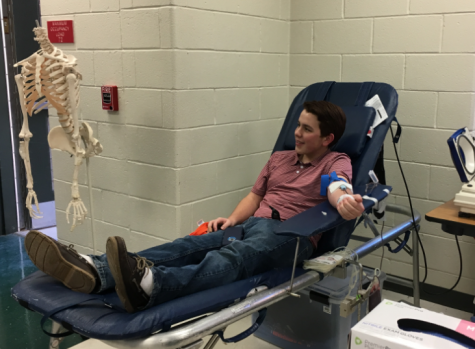 Everyday in the US approximately 36,000 units of red blood cells are needed by people all over the country and those who donated their blood on January 19 at the HOSA Blood Drive were an active part in saving lives.
January is National Blood Donation Month, and in honor of that, the Health Students of America (HOSA) teamed up with INOVA Health to sponsor a blood drive.
Club members organized a successful drive in 2016 and decided to try their hands at another one. HOSA President Dani Cleveland explained the work involved in planning the event.
"Not a lot went in prior [to this event]," said Cleveland. "We had a few meetings with the Inova people, we started publicizing by word of mouth and posters, then by speaking and signing up at lunch. The hard part was the day of the event."
Cleveland was happy with this year's turnout.
"I think a lot of people genuinely wanted to help save a life, others did it because their friends did it," Cleveland. "And still others did it for service hours."
Junior Isabella Jontz wished more people would have turned out for the event.
"Last year we had a lot more people at the blood drive than this year, but I was still glad we got as many people as we did," Jontz said. "The blood is going to INOVA hospitals only, even though we liked American Red Cross better because they provide blood to all hospitals, including Fauquier Hospital."
Jontz was disappointed that she could not donate blood that day.
"I wasn't able to donate due to a tournament the next day, but I wanted to because I know it makes a difference and benefits a lot of people," Jontz said.
HOSA has been very active this year. In addition to the blood drive, members have participated in competitions, skill days, bake sales, and other services for the community.
Senior Sarah Mitchell has been a club member for two years. "I joined because, at the time, I wanted to be a physician's assistant," Mitchell said.
Mitchell recommends the club for anyone interested in going into the medical field.
Students who are interested in joining HOSA, or attending a meeting, should stop by Room 239 and ask Ms. Rudolph for details.
Leave a Comment