Reading Buddies Kicks Off Year Six
Program instills confidence in reluctant readers
Hang on for a minute...we're trying to find some more stories you might like.
Each Friday, juniors put on their jackets and walk to Greeneville Elementary School where they meet with their reading buddies.
Now in its sixth year, Sharon Krasny recalls why she started the program in 2013.
"I had two students in my English 11 class who desperately needed to gain confidence to pass the SOL," Krasny said. "I wanted to give them a real audience and have them be able to see themselves as mentors of little kids."
Krasny chose little kids because she felt it was a great way to boost the confidence of her older students.
"No matter how low of a reader my student was, he/she was much stronger than the little kid next door (with the rare exception of the one or two little dudes who were reading Harry Potter)," Krasny said.
The students would go to get to know their reading buddy and read books with them so they could learn about their audience. Then the high schoolers put together a story for them and we went and read it to the little buddy.
"Sometimes the little buddies would share their books that they were writing, too," Krasny said. "It was really a sweet exchange and very empowering."
The program was such a success that juniors are still participating in it today.
"I liked the fact that we were able to help each other so much as a community of learners," Krasny said. "The emphasis was on the love of learning through a relationship and not on an SOL."
The program has not only helped the older students, but it has benefitted the younger students as well.
"An example of this was when parents of a little girl reported in their 504 meeting that nothing has worked for her like her reading buddy," Krasny said. "They saw such a change come over her through that program."
The program was so successful the first few years, that all junior English teachers have incorporated it into their classes.
"I think both the Kettle Run and Greenville kids really enjoy it," Troy Washington, English teacher, said. "We began this program six years ago to establish relationships with the elementary kids, giving them the chance to have mentors that they can look up to."
Elementary schools have had their own variation of reading buddies for years.
"At C. Hunter Ritchie, in fifth grade, we read to the kindergartners," Joseph Randall, junior, said.
Lauren Leonard, senior, also participated in the program in elementary school. She was thrilled to do it again her junior year.
"With Mrs. Overholt's class, I got the chance to be the mentor instead of the student," Leonard said.
Grace Small, senior, also enjoyed the experience her junior year.
"I really enjoyed going over to read with the kids," senior Grace Small said. "It's awesome! The kids are so energetic and it's a completely different vibe than high school. It reminds you of what you used to be like and it's kind of a refresher."
Audrey Swain, English teacher, loves the walk but explained the weather does not always cooperate for the walk.
"A few years ago it was time to leave," Swain said.
"As we opened the doors to leave, it began to pour. Unfortunately, we couldn't just wait it out, knowing we had to get back for the next block. Some people ran, some walked, but we all looked like drowned rats when we arrived back. We laughed about it the next day."

About the Writer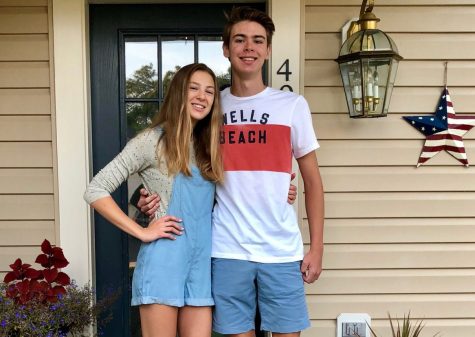 Faith Schaefer, Head Lifestyle Editor
Hello, my name is Faith, I am a sophomore here at Kettle Run, and I'm an editor for the Newspaper. I love sports, and I play on the girl's volleyball and...