The Inside Look of a Military Student
Alumni share their daily adventures at the academies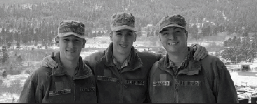 Applying and attending a military academy can be quite the challenge, but several alumnus over the years have achieved their dreams.
The application process alone can difficult; most of these processes are lengthy and require many steps. Most academies require a completed online application, physical and medical exams, essays and the obvious academic transcripts.
The Naval Academy in Annapolis, Maryland requires applicants to meet with a Blue and Gold Officer in their region. Applicants must also receive a nomination from a Congressman or the U.S. President.
Ryan Schwind, a 2016 Kettle Run graduate, explained his experience with the application process.
"I went the Congressional nomination route, and I sent in my recommendation to Congressman Robert Hurt," Schwind said. "After sending it into his offices, I went in for an interview."
Reece Cooke, a 2017 Kettle Run graduate, applied to the United States Air Force Academy.
"The application process is pretty standard compared to other schools," Cooke said. "However, admissions emphasizes character and leadership skills when looking at an application. Plenty of people get in because they do a lot of extra curricular or have leadership positions on their resume."
Schwind and Cooke were both accepted into the academies. Cooke explained that the classes he is taking are similar to the ones taken by students in other universities.
"For me, class sizes are very small with no more than 30 students in a class," Cooke said. "Most cadets take somewhere between 17-20 credit hours a semester. I usually have class from 7 a.m. to 12 p.m. every day."
Although the classes are similar, campus life is very different. Rachel Seeberger, a 2015 graduate of Kettle Run, shared her experience at the Naval Academy.
"Campus life is definitely unique," Seeberger said. "All students are a part of the Brigade of Midshipmen, which is broken up into 30 companies."
All Naval Academy students, men and women, are called midshipmen. The student body is the Brigade of Midshipmen, or simply 'the Brigade,' and the naval service often is called 'the Fleet.'
Cooke said life at the Air Force Academy is also very different.
"Everything is organized like the operational Air Force," Cooke said. "We are put into squadrons and have a peer chain of command. However, there are still plenty of opportunities to go off base and explore Colorado Springs."
At the academies, most newbies or freshmen, have strict rules they must follow. Schwind shared some of the rules he had to obey his freshman year.
"Most off our rules are pretty continuous during our collegiate careers, at least the big school-wide rules," Schwind said. "However, as freshmen, we were called 'plebes', but we were not allowed to leave the campus, unless it was a Saturday, from 12 p.m. to 12 a.m. You also are not allowed to watch movies or listen to music during the week, but on the weekends there is 'liberty' where you can do those. Another freshmen 'rule' is that every corner you take, you must turn at 90°, and yell 'Go Navy!' That one got a little old after a while."
Seeberger is enjoying life as a senior at the academy.
"Now, I can leave campus on Tuesday, Thursday, Friday, Saturday, and Sunday, and I am allowed to wear civilian clothes any time I am off campus," Seeberger said. "While on campus, or the Yard as we call it, I still wear a uniform to school and other military events, and I have weekly room and uniform inspections."
Seeberger and Cooke have advice for students who want to apply to a military school. "
Work hard in school and get involved," Seeberger said. "Navy is definitely a tough place to go school, but that's what makes it worth it. If it was easy, everyone would do it!"
Cooke said motivation is key to surviving the four years of school. "Everyone is motivated differently here, whether it's because they want to serve, play sports, get a free education, or just better themselves," Cooke said. "If you can't hold on to that motivation, the four years here will be tough."