Hurricanes Can't Stop Our Homecoming
This year's spirit week and homecoming was one for the books.
Hang on for a minute...we're trying to find some more stories you might like.
     Students from all grades enjoyed a fun-filled and fast paced week, ending with the varsity football team's win against Culpeper and a lively Homecoming dance. Changes in spirit week due to the unpredictable path of Hurricane Florence made for last minute changes throughout the week.
    The days of the week were supposed to be Pajama Day, America Day, Gray Out in honor of Owen Deavers, Dynamic Duo Day for underclassmen and Toga Day for seniors, and finishing out the week with Spirit Day.
    However, Hurricane Florence threw administration and the Student Council Association for a loop, causing them to switch the Homecoming football game to Thursday night and the pep rally to Thursday during fourth block.
    Many students were hesitant about the change in the pep rally and the Homecoming game, but the Cage was as excited as ever and the football team finished the night with a 41-0 shutout over the Culpeper Blue Devils.
    "I really enjoyed participating in Spirit Week," freshman Zoe Lilly said. "It was so much fun, I really liked being able to enjoy every day of the week by going all out and just having a good time. My obvious favorite was Spirit Day because everyone actually participates in it and that makes it so much more fun to do."
    The impending hurricane forced administration to entertain moving the Homecoming game to Thursday night. Students were unsure of the switch in days, but the administration didn't hesitate when it came to the safety of the students. Even though some were still not happy about a game being on a Thursday night, the night was still a success.
    "I have no issue with changing the game date," Principal Meaghan Brill said. "It is always best to be safe and the decision to move the game occurred early in the week when we still anticipated a much larger impact from Florence. I do not have any regrets with regard to moving the events that were planned this week; safety is the number one priority."
    With the game moved to Thursday, the pep rally was also changed to Thursday afternoon. The games were fun and exciting to watch, but everyone was left in shock at the outcome of the rally. Controversy was rooted in the gym after the freshmen won the Spirit Stick and had left the seniors defeated.
    Annually, seniors win the spirit stick regardless of how many points are scored. It is meant to be a fun way to let the seniors obtain the spirit stick because it is their final year to participate in the pep rally.
    "I didn't really care about the outcome of the pep rally. I just find it a little annoying that every single year, despite cheating, the seniors get a win," senior Tyler McAnany said. "It is tradition, but this year, the seniors didn't get a chance to win and it was disappointing."
    Even though the bad weather that was predicted didn't hit as much as was anticipated, the parade was still cancelled. This year, many students and faculty were excited for the parade because of the new advancements that were going to be made, but unfortunately it had to be called off.
    "Obviously, it is a little disappointing that we had to cancel our parade and reschedule a lot of the Homecoming activities," Student Council Association sponsor James Pittman said. "I would rather be prepared for the bad weather and not have it happen than to not be prepared and be caught unprepared."
    Student Body President, Harper Crater, also felt the stress of changing Homecoming week last minute.
    "It was stressful," Crater said. "We were doing our best to make everybody happy, but there are somethings we really have no control over. Administration was great about working with us and listening to what I was hearing from the students, and in the end it all worked out. The SCA representatives and officers were amazing and supportive, and I really appreciate that."
    After a full week of fast paced spirit, it was capped off with a Homecoming that every student was anticipating. The week leads up to one of the most awaited events for the year, and many were excited for the dance.
    "This is my second year here and I am excited to go to the dance," sophomore Nia Rogers said. "It is always enjoyable to go to a school dance."
         Students arrived at the homecoming dance in their best dance attire. Some went in groups and some went together as dates, either way, everyone had a good time.
    "I liked some of the songs that the DJ was playing," senior Ryan Schaefer said. "There were a lot more good songs played this year, and I was happy about that. The dance was also cool, being a senior, this is my last year, and I am glad that this year was enjoyable. Afterwards, hanging out with your friends is always something fun to do."
    As per tradition, the king and queen of homecoming were chosen and crowned on the night of the dance. This year's homecoming king and queen consisted of seniors Gabe Chumley and Harper Crater.
    "I was really excited that we won," Crater said. "We were glad that we were chosen and all in all, it was a really enjoyable night. I had a lot of fun."
    This year's spirit week will be remembered not only for being very lively, but also for the wild unpredictableness of Hurricane Florence. Even though the seniors were upset over not winning the pep rally, every student enjoyed their Spirit Week and going to the football game.

About the Writer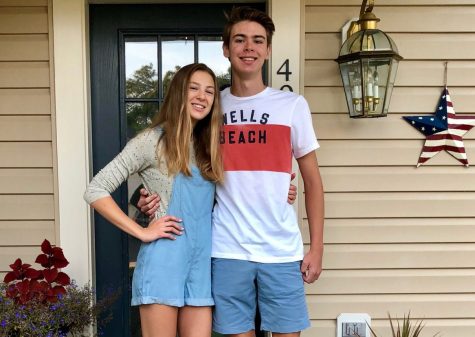 Faith Schaefer, Head Lifestyle Editor
Hello, my name is Faith, I am a sophomore here at Kettle Run, and I'm a new editor this year. I love sports, and I play on the girls volleyball, basketball,...