Winter Storms Inspire Twitter Storms
More goes into cancelling school than tweeting at Dr. Jeck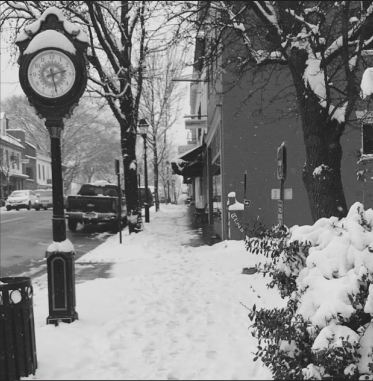 "Aye I'm just saying… a 5 day weekend ain't looking too bad @DrJeck," said junior Hunter Ryan on Jan. 31.
It's the time of year that students start to blow up Superintendent Dr. David Jeck's Twitter.
So far, Fauquier County students have missed 12 days due to inclement weather. How much of that time do they need to make up?
Students made up the first day lost on Presidents Day, which was initially supposed to be a school holiday. The second, third and fourth snow days will be made up on Wednesday, March 13 and Wednesday and Thursday May 29 and 30, which would have been half days.
Snow days 11 and 12 will be made up with banked hours, these are the hours students attend school beyond the 990 hours required by the Commonwealth of Virginia. Banked hours will also cover days 13-15 if they are to occur. Spring Break has not been touched and will still occur April 15-19.
The decision to close schools is not an easy one.
"I am not the only one who makes the decisions for delays and closings," Jeck said. "We consult David Graham, Cheryl Fischer, VDOT, the FCPS Snow Team and numerous other people."
Graham, the executive director of administration and planning, is the one of the key players in the decision.
"Please note that decisions concerning school closings are based on conditions across all Fauquier County," Graham said. "While conditions may appear safe in one area, conditions may not be safe in another area of the county."
There have been a few decisions made that left students scratching their heads.
On Jan. 16, FCPS did not close or call for a delay, although all surrounding counties were delayed/closed. Due to this decision, students were upset with county-wide administrators.
On Jan. 16, junior Declan Boyle tweeted to Dr. Jeck, "If PWCS, which had conditions well enough to attend school today, has a delay for tomorrow, while FCPS conditions were so bad that school needed to be cancelled, it seems pretty evident we will at least need the same for our student safety."
Boyle shared his reasoning for the tweet. "I was worried about the safety of our students who live in the northern end of the county," Boyle said. "I think that putting these students at risk was not worth the reward."
Graham explained why the decision was made. "When the decision was made for that particular day, road conditions were improving the day and evening before," Graham said. "The refreeze ended up being more of a problem than originally anticipated."
Although many students were shocked to see that school was on time that day, freshman Mattie Heflin respected the decision.
"Although I would have really wanted a two hour delay that day, I believe whatever Dr. Jeck decides is best for our county," Heflin said.
Students usually take to Twitter to share their opinions on delays and closings. Jeck usually sees a huge spike in responses from students the night before a suspected storm. He loves seeing the clever and creative responses from the students.
"I enjoy interacting with students. It reminds me why I became a teacher in the first place," Jeck said. "I appreciate the students honesty, candor, and humor. It takes courage to put your views and sense of humor out there publically."
Students love tweeting to Dr. Jeck, they see it as a fun way to break the tension of a possible snow day.
"I take part in tweeting Dr. Jeck so I can feel connected to his decision," Heflin said. "It also gives me quite a laugh,
and I love seeing him like my tweet."
While some students enjoy the tweets, there are others who feel some of the responses are not professional. Regardless of how students feel about the tweets, spring is just around the corner and students are hoping to squeeze in just one or two more snow days before warmer weather arrives.