Cougars Earn Blue Ribbon Award
Music department awarded 9th year in a row
Hang on for a minute...we're trying to find some more stories you might like.
Kettle Run's music department is one of the best in
the state. For the sixth year in a row, the program earned the Virginia Blue Ribbon distinction from the Virginia Music Educators Association, VMEA.
The Blue Ribbon Award is the highest award given to school music programs in the Commonwealth. The award recognizes excellence in band, orchestra, and chorus.
All disciplines in a school must receive a "superior" rating during assessment to earn this distinction.
Directors spent all year preparing students for this one day. Kristina Sheppard, chorus and orchestra director, looks forward to assessment every year.
"I really value assessment for the feedback and educational importance," Sheppard said. "It's really important to have a goal to works
towards, and the pressure is on for assessment."
Orchestra members spent months preparing for this one day. In addition to class, members spent hours practicing at home. "To prepare, we mostly rehearsed a lot during our class time," junior Rachel Schwind said. "But we were also required to practice our parts at home." Chorus members also
worked hard to prepare for assessment. "We practiced sight reading on the daily," junior Kaitlin Sarver said.
"We also wrote solfège when we messed up on certain areas, we practiced singing in groups, and we worked as a team more than a single unit, especially with only ten girls in the choir."
Sarver appreciated the feedback she received during assessment. "I feel that singing with your whole heart to people who haven't heard you sing before is really important," Sarver said. "You wouldn't be able to improve and work better as a team when you have the same people listen to you every time."
Elizabeth Deavers, band director, also worked hard to get her students prepared.
"Preparation really starts at the beginning of the school year," Deavers said. "Working on fundamentals, making sure everyone is listening to the others around them, making sure they are all playing with the same style, and working on balance; those are all things that we work on at the beginning of the year so that when we apply those concepts to the music, we don't have to work as hard at the moment. We start with good habits from the beginning."
Deavers was thrilled to hear their hard work paid off again. "When we earned the title of Virginia Honor Band, the students and I were very happy and proud of the accomplishment," Deavers said.
This was the tenth year in a row that the band was recognized as a Virginia Honor Band.
"The title means a little more this year because of the difficult year I have had managing my son's medical condition," Deavers said.
"Because of his condition, I had to miss marching band for the entire month of August, as well as the first three weeks of school and a week in October. So the students had to persevere and work even while I was gone. This is a testament to their work ethic and desire to be successful." The band's motto for this year was "adapt and overcome."
"This was a year full of challenges," Deavers said. "Between terrible weather for marching band, a director who had to miss a lot of days, and a lot more snow days than the average year, we had a lot to overcome."
Rather than throwing in the towel, Deavers used the hardships as a learning opportunity.
"It's a great skill to learn that no matter what obstacles are put in your way, the choice is yours to adapt and overcome your situation," Deavers said. "Never
give up working hard."
The day of assessment, band members had another obstacle to overcome. "We had a student that was very sick and had to leave the stage about one minute before we started to perform," Deavers said. "A few other students were able to pitch in and play some of this student's parts in our songs. It was a challenge to make this switch at the last second, but the students were able to adapt and overcome."
About the Writer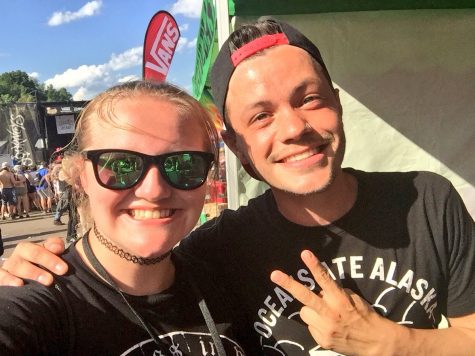 Emma Gray, Managing Editor
Hello! I'm Emma Gray and I'm a junior here at Kettle Run High School.  Journalism grants me so many opportunities to write about things I love and exposes...