CNU Scores Big with Latest Commit
Tyler Trimble commits to play basketball in Newport News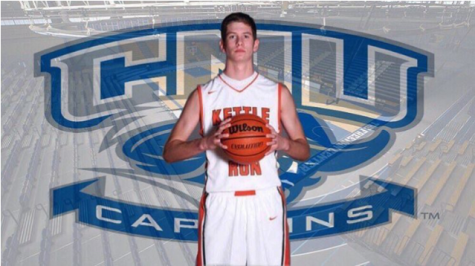 Basketball. Not only a sport focused on height, finesse, and pure untainted skill, but also a lifestyle for the newest Christopher Newport University commit Tyler Trimble.
Tyler's parents have played a huge role in his success as a player and have supported him.
"My dad was a basketball player and one day I decided to shoot with him; plus, I'm really tall, so it came easy," Tyler said.
CNU was straight to the point with Tyler, making it clear they wanted him at their school.
"I played AAU. I reached out to CNU and I saw the coach at a tournament and he came to one of our games; we kept in touch and I visited there. When I had my official visit, that's when they offered me a spot," said Tyler.
Coach Troy Washington is proud of his player.
"Tyler has worked really hard," Washington said. "His work ethic has improved each year, and he is
really dedicated to his craft. We hope that all of his hard work will payoff as we go into a new season."
Tyler's brother tells of the commitment he has shown in the past four years.
"He's gone all out," Garrett Trimble said.
"He's never missed any off season workouts, and he's given 100 percent at everything he does," Coach Washington agreed.
"Tyler has matured as a player and leader since his freshman year," Washington said. "He is still a work in progress entering his senior season and we know that he will take the lessons he has learned both on and off the court in his first three seasons to make this a fantastic year for himself and our team."
Tyler said choosing a school was not easy.
"The decision was very hard, I narrowed my choices down to two schools, Roanoke and CNU," Tyler said. "It was very hard, especially to leave Taylor. What sold it for me was I played with the team at CNU; I love those guys, and it's a very good program."
Leave a Comment