Going Inside the Football Helmet
Sharing perspectives from players on and off the field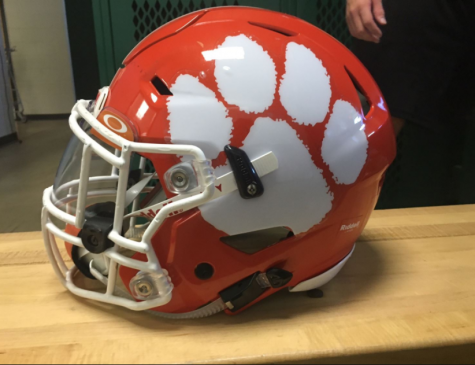 Football is a very time consuming sport.
With the amount of time it takes comes a lot of dedication. Football players are some of the most motivated people you can find. Without motivation, they would not be able to be successful. In order to get somewhat of a feel for what these athletes go through, I decided to share our day to day routines and lifestyles.
School work becomes more of a struggle when football season rolls around. Motivation dwindles and the struggle to do work builds up.
"The hardest part is going home after practice and making time to study and do homework," senior Chance Morrison said. "You gotta love the process though."
Morrison is a key component to the team's defense by making game changing plays such as the interception to seal the game against Liberty High School 27-26. Motivation is key to becoming a great football player. If you do not have a reason for your work, someday you will meet a trial and not be able to get through it due to your lack of motivation.
"I grind, not just in the sport, but as a student and person for my family. I have the mind set that I have to set an example and create a path for my siblings," said Casen Chumley, senior quarterback. Chumley leads his team in prayer before every game.
"[The team] has to stay motivated and we needed seniors to step up and be leaders," Chumley said.
Outsiders of the sport wonder why the players work so hard in the off-season. It is regarded as an unnecessary grind.
"Working like that in the off-season builds tremendous team chemistry," said Morrison.
In his second year on the team, Morrison has had a huge impact. His offseason work has reflected his success this season. Entering the 2017 season, head coach Charles Porterfield gave the team three goals for the season.
"One, beat Fauquier. Two, beat Liberty. Three, make the playoffs."
Keeping these goals in mind, the players have created an environment that has not been seen since the David Eldridge/Abu KaiKai era.
"Accomplishing the team goals and winning games is the best feeling by far," said senior linebacker Andrew Pickett. "I was so glad that the team pulled off the win against Liberty as my last senior home game."
Leave a Comment