Alumni Catches Major Leagues' Eyes
MLB teams scout a former pitcher for the Cougars
Hang on for a minute...we're trying to find some more stories you might like.
A former Kettle Run baseball player may soon be
headed to the major leagues.
Brenton Doyle, class of 2016, has caught the eye of at least six major league baseball teams.
"Discovering that MLB teams were taking notice of me was very satisfying and exciting," Doyle said. "Baseball has been my passion ever since I could remember, and to see all the hard work and dedication I've put into the game payoff is a great feeling."
Ty Thorpe, Doyle's high school coach, was not surprised when the calls started coming in about his former athlete.
"Most of the questions they have been asking me are very generic; wanting to know about the kind of person he is, his work ethic, family life, and hobbies and interests," Thorpe said.
Thorpe added that Doyle's success was hard earned.
"Brenton was, and still is, a very fiery competitor," Thorpe said. "He pushed himself hard and put a lot of time in on his own to get where he is today. Brenton was a good student athlete. He was able to balance his classes and time on the field."
Doyle, currently a junior at Shepherd University, Division II, has spent his summers playing summer ball. His primary position is outfield, but he also plays second base and shortstop.
The past two summers, he played for Wilson TOBS, one of 16 teams making up the Coastal Plain League. "Last summer was the best summer of my life," Doyle said. "I was able to build friendships and play with college players from all over the nation. It's a very popular summer league so the fans at each game were unlike anything I've played in front of before. Some nights we would have up to 2,000 fans. The league also included some of the best college players in the country, so I was able to face better competition and further develop my skills."
As a player for WilsonTOBS (Wilson, North Carolina), Doyle took on tougher competition and excelled. In 2018, he started in 53 games batting a .416, hit 16 doubles and 13 home runs, scored 62 runs and had 67 RBI, stole 22 out of 23 bases, slugged .695 and had a perfect 1.000 fielding percentage. In 2017, he played in 52 games with 51 starts; he gained second team All-MEC honors posting a .327 batting average with 64 hits in 196 at bats.
Doyle also drove in 34 runs, scored 44, had 13 doubles, a triple and four home runs.
He also posted a perfect 1.000 fielding percentage and was named to the MEC AllTournament Team.
Doyle's had his first taste of success in baseball back in high school when he made the starting varsity lineup as a freshman.
"He cracked the starting lineup midway through his freshman year," Thorpe said, and he never looked back.
Doyle helped lead his team to Kettle Run's first appearance in the Virginia state baseball tournament; he was named the team MVP his senior year; he was also named to the All-District, All-Region and All-State teams during his junior and senior years.
"Brenton played with some very talented guys, but he lead us in most offensive categories his senior year," Thorpe said. "He also is a very strong defensive player; he can get to most fly balls that others can't, and he has a very strong arm."
Doyle credits Thorpe for helping him discover his love of the game.
"You often hear stories about high school coaches ruining sports for athletes, but that isn't the case with Thorpe," Doyle said. "He cares about his players on and off the field and he has always pushed us to bring out the best in each other, whether it was as a person or a player." As he moves up the baseball ladder, Doyle carries memories of his time playing high school ball with him.
"Kettle Run brought a lot of incredible experiences and memories into my life," Doyle said. "I was fortunate enough to play with an incredible group of guys, and I was lucky to call them my friends. On the day of graduation, we had one final home game against Fauquier and then went on to graduate later that day. It feels like that was just yesterday."
Senior Caden DeCroo was a freshman when he first met Doyle.
"He was an authority figure for the others on the team," DeCroo said.    "Everyone respected him on and off the field. He took me under his wing when I was a freshman on varsity. He pushed me to work harder for the team."
Thorpe shed more insight on his former player. "He was the kind of player that let his play do the talking," Thorpe said. "He was a good teammate and he never walked around like he was any better than anyone else."
For those athletes hoping to follow in his footsteps, Doyle had some advice.
"Do not let anyone ruin the love you have of your sport," Doyle said. "You fell in love with that sport for a reason and the opinions of others shouldn't change your aspect of being an athlete and playing the sport that brings you happiness."
Thorpe also had some advice for players who hope to continue their sport at the college and/or professional level.
"You have to work, this means on your own when no one's watching, not just at practice," Thorpe said. "Practice like you play because you never know who is watching. If you don't have a strong work ethic, you will be passed by. Stay humble and be yourself; don't be something you aren't."
The 2019 MLB Draft is June 3-5 on the MLB Network and MLB.com.
If drafted, Doyle will be the second major league player to come out of Fauquier County. Mike Duvall, a 1993 graduate of FHS, made his debut in the major leagues with the Tampa Bay Rays in 1998.

About the Writer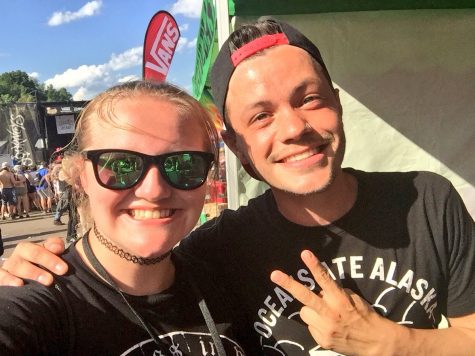 Emma Gray, Managing Editor
Hello! I'm Emma Gray and I'm a junior here at Kettle Run High School.  Journalism grants me so many opportunities to write about things I love and exposes...