Baseball Alumni On Deck for Majors
Brenton Doyle strikes a spot on the Colorado Rockies
Hang on for a minute...we're trying to find some more stories you might like.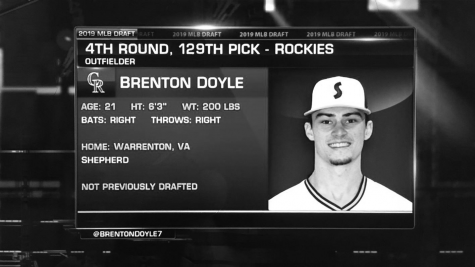 A Kettle Run baseball alumnus made the All-Star team in his rookie season with the Grand Junction Rockies, the rookie affiliate of the Colorado Rockies.
On June 4, Brenton Doyle , Kettle Run class of 2016, was drafted by the Colorado Rockies. Doyle was at home in Broad Run watching the draft with his family when his adviser called with the good news. Doyle said he didn't have time to call or text anyone.
"Everyone knew I had been drafted and they started blowing up my phone," Doyle said.
Doyle was the first DII player to be selected in this year's draft and was excited to make the move to Colorado. "Colorado is a gorgeous state with plenty to do and see," Doyle said. "I enjoyed my time there."
Ty Thorpe, varsity baseball coach, has been following his former player's career. "He had a great rookie ball season," Thorpe said.
Doyle played 51 games with the Grand Junction Rockies. He said playing at this level was much different. "I played in front of a lot more fans, and played every day with very limited off days."
Doyle was most proud of his "consistently good hitting against higher competition pitching."
"Being able to play at the next level and improve my talent, is just incredible." Doyle said. "I'm going to keep working hard and work my way up the minor league system and eventually the major league system."
Doyle, who finished his junior year at Shepherd University in May, had two great years on the DII team.
"Putting up really good statistics in college and summer ball is what got me attention," Doyle said. His success on these teams garnered the attention of, not one, but six major league teams.
Thorpe was not surprised when the calls started coming in about his former athlete; he added that Doyle's success was hard earned. "Brenton was, and still is, a very fiery competitor," Thorpe said. "He pushed himself hard and put a lot of time on his own to get where he is today. Brenton was a good student athlete. He was able to balance his classes and time on the field perfectly."
Doyle had his first taste of success in baseball during his freshman year of high school. "He cracked the starting lineup midway through his freshman year," Thorpe said, "and he never looked back." Doyle helped lead his team to Kettle Run's first appearance in the Virginia state baseball tournament; he was named the team MVP his senior year; he was also named to the All-District, All-Region and All-State teams during his junior and senior years.
"Brenton played with some very talented guys, but he led us in most offensive categories his senior year," Thorpe said. "He also is a very strong defensive player; he can get to most fly balls that others can't, and he has a very strong arm."
Doyle credits Thorpe for helping him discover his love of the game. "You often hear stories about high school coaches ruining sports for athletes, but that isn't the case with Thorpe," Doyle said. "He cares about his players on and off the field and he has always pushed us to bring out the best in each other, whether it was as a person or a player."
As he moves up the baseball ladder, Doyle carries memories of his time playing high school ball with him. "Kettle Run brought a lot of incredible experiences and memories into my life," Doyle said. "I was fortunate enough to play with an incredible group of guys, and I was lucky to call them my friends. On the day of graduation, we had one final home game against Fauquier and then went on to graduate later that day. It feels like that was just yesterday."
For athletes hoping to follow in his footsteps, Doyle had some advice. "Do not let anyone ruin the love you have for your sport," Doyle said. "You fell in love with that sport for a reason and the opinions of others shouldn't change your aspect of being an athlete and playing the sport that brings you happiness."
About the Contributors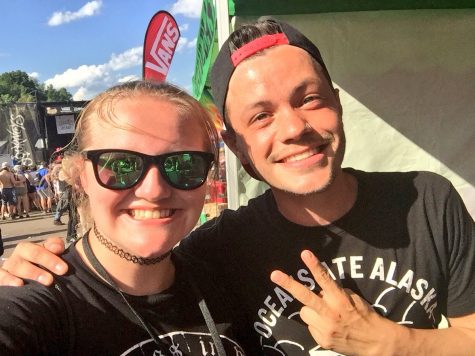 Emma Gray, Managing Editor
Hello! I'm Emma Gray and I'm a junior here at Kettle Run High School.  Journalism grants me so many opportunities to write about things I love and exposes...