Marching Up a Musical Storm
Marching Cougars earn top award at latest assessment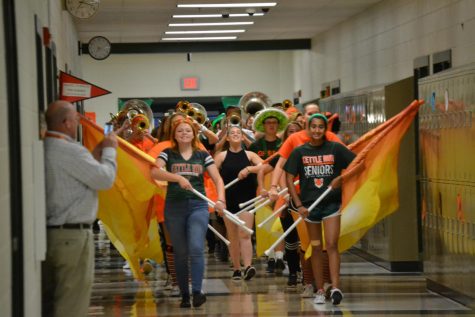 There's a Category 5 hurricane on the football field, and it's garnering a lot of attention.
Category 5 is the theme of this year's marching band show. During its first competition at Woodbridge High School, the band earned Grand Champion, beating out 15 other schools for the top spot.
Senior Mackenzie Primrose was pleased with the band's performance. She said she was "beyond excited and surprised" when they were awarded Grand Champion.
"Once it was time for grand champion to be announced, we had already sat the band down and weren't planning on getting up for that award because we couldn't have imagined getting called for it," Primrose said.
In addition to Grand Champion, the marching band also earned first in class and first place in the following categories: music, marching, and percussion. The group earned second place in general effect and color guard.
Junior Matt Rieflin, who plays the snare drum, said the competition, while "really hot," had lots of great shows. He plans to bring a GoPro to one of the rehearsals so spectators can get an inside looka t the show.
The Grand Champion honor came with a lot of hard work. The group has been practicing the show since early August.
Band Director Liz Deavers said the theme, Category 5, was chosen back in April.
"We had no idea this would be a particularly devastating hurricane season," said Deavers, "We are dedicating all our performances to those affected by hurricanes Harvey and Irma."
The band is currently preparing for assessment on October 21.
"I hope we get Superior in assessment," said drum major Danielle Devere.
In addition to competitions, the band plays during every home, varsity football game.
"They play the fight song after we score and the "Jaws" theme before kick off," football player Logan Morris said.
Deavers hopes that performing during the show helps the team.
"I feel it helps motivate the crowd and generates excitement for the team," Deavers said.
Although Deavers hopes her group is successful at assessment, that is not her main goal.
"I want the group to be as successful as they can be," Deavers said. "I'm happy if each performance is better than the last."
Leave a Comment