Girls State
This summer, I had the privilege of attending Virginia Girls State. The leadership program was held at Longwood University, June 17-23.
Throughout the course of the week, I helped establish a fully functioning state level government, made lifelong friends, and met some very influential people.
According to the website, the mission of those who have brought us our freedom through our enduring commitment to develop young women as future leaders grounded in patriotism and Americanism. The young women become knowledgeable of the democratic process and how a republic form of government works at the state and national levels."
The six days I spent at girls state provided me with the opportunity to work with passionate, like minded young women who believe in the democratic process.
My time at Girls State was definitely something I will never forget. I expected the week to be highly competitive and cut throat; after all, we were competing for high level positions such as state governor, lieutenant governor, and attorney general. But to my surprise, everyone was incredibly compassionate.
Girls State was divided up by "cities" named after influential Americans. I was in the city of Tyler, named after John Tyler. Throughout the week, I worked with my city to elect our mayor, city cabinet, and our town sheriff. Once the key positions in our city were filled, it was amazing to see how well those leaders kept us running without any outside guidance.
I was elected into the House of Delegates, where I wrote and passed legislation. Students also had the opportunity to take developmental classes. I chose to take a class on women in law enforcement. Female Virginia State Police officers talked about their jobs, shared video footage from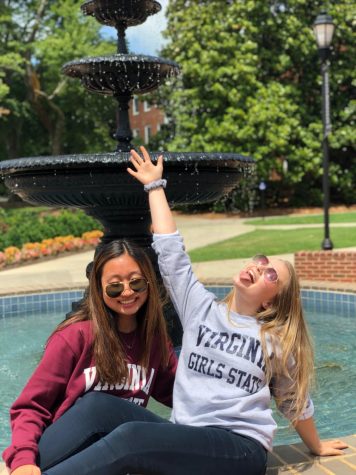 their shifts, and explained what it was like to work in a male dominated field.
I cannot recommend Girls State enough. The experience has already been so rewarding, and I hope that other rising seniors get the chance to attend this leadership program in the future.
Girls State is an amazing opportunity that will help young women stand out on college applications, access incredible scholarships, and understand the world around them.
If you're a junior and think this is something you might want to participate in next summer, contact Angelica Newham, career coach, in the counseling office at [email protected].
All applicants must go through an interview process with members of the local American Legion Auxiliary Unit. Candidates are evaluated based on their leadership abilities, interest in government, service to others, and academics.