Winter Fashion Back Again
Taking a look at the chilly style choices this winter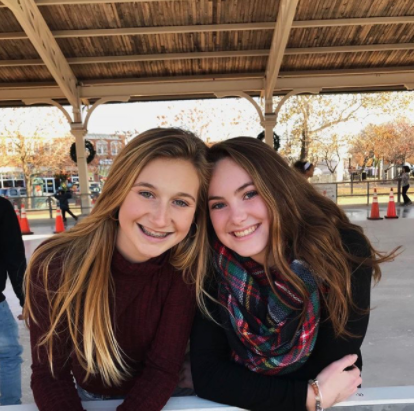 Embroidered jeans, embroidered boots, Birkenstocks with socks, bean boots, and sweaters are many different things that were said by students to be worn during this winter season. Trying new styles are always hard and keeping up with them is even harder. Last year some of the biggest hits were Birkenstocks with socks or even flannels. And those Birkenstocks with socks are making a comeback. This year's trends look promising.
Winter fashion is one of the most interesting times to try out new styles and get a fresh new start before the new months take over our closets. Having to go through your closet and purge through it just to find something warm to wear for these cold winter months can be hard, but some things have been said to be very helpful for you to stay on trend. Several students have seen many fashion fads come in and out of the school over the years.
"I'm seeing cardigans and infinity scarves a lot lately," said freshman Sarah Hue. "It is symbolic to in a way that it's getting cold."
A lot of people consider themselves to know what some winter fashions are and gave advice on what they have seen around school. And to fit the weather around them, students have been wearing things that fit the winter season.
"Baggy sweaters, knee high boots, darker colors, and flannels. They mostly wear things that keep you warm but not hot," said Junior Amanda Frankhouser.
"Dark lipstick is making a comeback," says Junior Stacey Stiles. Dark lipstick has been shaded away because it is known to be a bolder move and not to be worn as much as it was in later years. It also said to be worn because darker colors look better it the colder months rather than the warmer.
"The colder the weather, the harder it is to find cute outfits that actually keep you warm," Stiles says, "It seems colder in the mornings than it is in the middle of the day and students constantly try to keep up with the changing weather. It may not fit the changing weather.
"Like, buddy it's cold," she also says.
"It should be appropriate to wear Christmas sweaters during the month of November," Stiles said. Majority of students debate against having on Christmas merchandise because they say that it's not the appropriate month, but some beg to differ.
Most have said things that they wear are based on what is new in style but will also keep you cozy and warm. And they think that some outfits match the cozy fall season. The weather has a bigger impact on what we decide to wear and how we perceive ourselves.
"They wear them because they want to feel more cozy because it's colder" said Freshman Everett Wilson.
Plenty of students can agree that the fall season go from hot to cold and deciding what to wear is a big part of that. Being comfortable in what you wear and how you wear it is all given by your attitude and only you can really judge yourself on how comfortable you feel and how you see yourself.
You can pull off anything you want to wear as you have confidence. Being comfortable in school is key rather than being uncomfortable in clothes that you will only wear for seven hours a day. Also, feeling great in your own skin is more important than looking good. This upcoming fall is making way to be a great season to put on your comfy sweaters and Bean Boots and take on the day.
Leave a Comment