Game Entrance Fees Too Costly?
Students face the problem of heavly priced tickets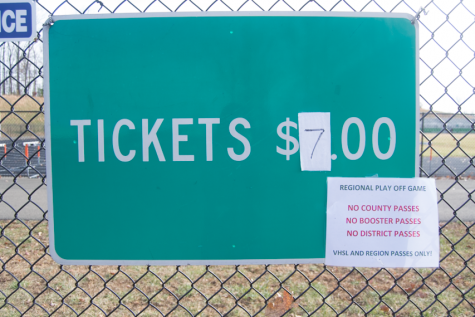 $6 to get into a game, $7 for a playoff game. Over the course of a school year these game fees add up. But where do it all go?
Charging an entrance fee is how schools make money, but students have complained of the upping of ticket prices at the tailend of sports seasons.
The money doesn't sit in the athletic department, it funnels out through all the sports, but it also is used to pay for officials, and maintenance. But more than the necessities — officials, uniforms, equipment — this money pays for awards and trophies as well. If teams want spirit wear, or any other clothing that isn't uniforms they are required to fundraise.
Students have their opinions on students not getting discounts into games, especially in the fall as football rakes in spectators.
"I think they are too high for students," said junior Alexa Williams. "Students should have a reduced price or be let in for free. Kettle Run sports players get the one dollar tickets and that's fair but the rest of the students have to pay the same price which is unfair."
In addition to the complaints of prices being too high, students have entered the world of electronic banking thus meaning that some students struggle to scrounge six dollars in cash together.
"I never have six dollars," said senior Grace Crater.
"Students should have a discount," said junior Payton Fiel. "Most students don't have jobs and six dollars is a lot for some students when they don't have job and they don't have someone to give them money."
While most complaints were made about the upping of prices at the play off stages, especially since the conclusion of the football program's regular season, and entrance into the playoffs.
At the final away game at Liberty High School, the entrance fee was eight dollars and the student section was packed — on both sides.
Once teams enter the regional circuit, the money is then out of the hands of the schools' athletic departments.
"When you get to the playoffs that money (admission fees), goes elsewhere," said Assistant Athletic Director Ellen Allen. "If it's a region playoff it goes to the region. If it's a state playoff it goes to the state. That money pays for refs at higher levels."
Because the admission fees go to the region, or the state depending, students are not able to use their booster cards to get into games. The money for the booster cards goes to Kettle Run's booster club which is why the students were not allowed to use their booster cards to get into the home football playoff game against Loudoun County, or at the away game at Liberty High School.
Leave a Comment