Kettle Run's 2022 Fall Show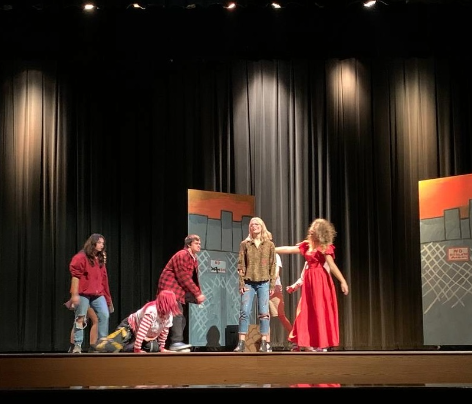 Kettle Run's programs, from sports to music, are full of talented individuals and truly something to be proud of. And although this still completely applies to it, Kettle Run's theater program commonly faces difficulties. However, it always displays lovable and fun shows to represent our school through it all. This year, Kettle Run's fall performance was 10 Ways To Survive The Zombie Apocalypse, a short comedy one-act written by Don Zolidis. The actors had limited time and limited tech crew, but all the same, absolutely delivered. 
10 Ways displays two narrators listing goofy and comedic ways to survive the supposed oncoming apocalypse, with actors (who don't know they're acting, according to the script, until the end) demonstrating these scenarios. The play is lighthearted and very enjoyable all throughout, and the actors loved the script they were working with. The performances went extremely well, despite any difficult factors. ¨This show proves how KRHS Theatre truly thrives under pressure and chaos, and I couldn´t be more grateful for our actors and tech," quotes Freddie Marier, who, hilariously enough, played a zombified grandmother. ¨I was super nervous because I didn't know my lines as well as everyone else. When I went on stage, the lines flew out of me. I was super confident on stage and once I got off, I was so proud of myself,¨ reminisces Rayllah Mincey, who played the part of Christy without a hitch. 
As mentioned before, there were a lot of limiting factors in the production of this play. For example, there was only two days time to complete the background sets. However, the aforementioned and very skilled Freddie Marier, and those who assisted them, did an amazing job. ¨It had been one heck of a ride, but definitely worth the wait to perform!¨ laments Riley Gelling, who thrived as Jimmy. This play left the audience smiling, a much deserved and needed spirit lifter for some. ¨10 Ways is the light hearted and funny show that we all needed, and it's a joy to perform. We´re grateful for all the work that has been put into this show, and we are very thankful for those who have come to see us perform," contributes Lula McCain, who is no stranger to the theater world and confidently played the part of Susan. 
Kettle Run's theater program may have been through some tough situations, but the talent of the actors and crew consistently pulls through to create wonderful shows. It is encouraging to see the talent of these young actors every year, and it is assumed there will be just as much skill and artistry exhibited in this year's musical.