Guidance for the Real World
One new career counselor is making a big difference.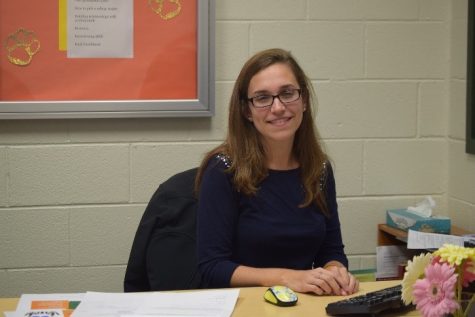 With everything a student has to figure out in high school, like SAT scores, AP classes, or training for a game, the search for the right plan in life after high school adds stress.
Career counselor Angelica Newham is helping students on their journey to finding the best post-high school plan for them.
Though new to Kettle Run, Newham teaches courses at George Mason University. "I'm only here part-time. I started this job in August of this year," Newham said. "I got my Master's degree in May of 2015 and then I worked as an intern at the George Mason University career services for my graduate internship. I also teach three classes at George Mason around career development."
Newham feels that the high school learning environment is very different from the college learning environment. "I love coming into the school and just feeling the excitement," Newham said. "I love the learning environment and I love seeing students' thought process."
AP students were among the first to meet Newham when she discussed dual enrollment at Lord Fairfax Community College with some classes.
"I like doing career assessments with students the most, which can be done online through the website FamilyConnection.com," Newham said. "It has a personality assessment, an interest inventory, and skills [assessment]. Students have the opportunity to take the short quizzes and then come into my office to chat with me about choosing a major or a career to go into. The other part is just helping students figure out what they want to do after high-school. It's that big, looming question that everybody has."
In a 2014 United States Department of Labor summary, there were over 270,000 career counselors working in schools. Principal Major Warner believes that career counseling is very important for students to have access to.
"Our beliefs about the skill sets that graduates need to be successful in life is a constantly evolving conversation," Warner said. "The emergence of our online capabilities with family connections gives us greater capacity to disseminate more information quickly and to strengthen the connection between schools and the world of work."
Assistant Principal Meaghan Brill believes Newham's work is beneficial to the success of students.
"Her guidance helps students shape their future," Brill said.
Newham, among the other career counselors across the country, is helping shape the way some students think about their future. Whether it be figuring out what a student's major will be, what college a student wants to go to, or even what a student's life after college might look like, Newham is up to the challenge.
"There's lots of different options out there," Newham. "What I'm here for is to help the student find the right path for them."
Newham accepts walk-ins, appointments, and is available for class presentations by teacher request. Students may contact Mrs. Newham by e-mail at Angelica.newham@ fcps1.org or by phone at 540- 422-7348. She is available Mondays, Tuesdays, and Fridays from 7:00 a.m. to 3:30 p.m. and Wednesdays from 7:00 a.m. to 11:00 a.m.