2000s Fashion Making Comeback
Highschool students bringing back Crocs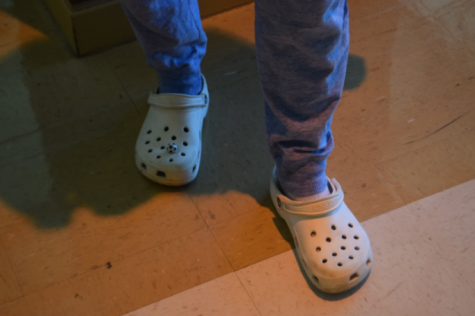 They've been dubbed the ugliest shoe on Earth.
Crocs, which became popular ten years ago, found themselves buried in the back of closets. Now, students are dusting them off and donning them again.
Crocs were first introduced in 2002 in Florida. They were intended to be alternative to boat shoes, but they quickly took off in popularity and have since overtaken Northern Virginia high schools.
Junior Grace Small is glad the shoes are coming back in style.
"I think crocs are extremely comfortable," Small said. "They fit the groove of your foot and they're very supportive."
Junior Aden Pohodich is favors Crocs over other shoes.
"Crocs have been my favorite shoe for awhile now, and I'm pretty sure they're the most comfortable shoes I have ever worn," Pohodich said. "I wear Crocs with everything – literally everything."
In addition to being comfortable, students also like how easily they can slide on the shoes.
"Crocs are great for after playing in sports games or practices because they're easy to put on," Small said. "I wear Crocs with leggings, pajamas, and sweatpants."
Junior Sammie Muma also owns pair of Crocs and likes to embellish them with Jibbitz, tiny charms that fit in the holes of the shoes that allow wearers to personalize them.
"Jibbitz makes my Crocs cute and fashionable," junior Sammie Muma said. "I cannot wear my crocs without them."
"I have 12 jibbitz," Pohodich said, "and I love all of them."
"Jibbitz are one of the best things about crocs, because they make them unique," said Small.
For every student that enjoys Crocs, there is a student who doesn't.
Freshman Audrey Rader has never been a fan of the shoes.
"Crocs are not very comfortable to me," said Radar, "They give me blisters on my feet, and my toes sometimes get stuck in the holes on the shoe."
Leave a Comment