Hugs, Hearts, and Happy Times
A look at the longest lasting Cougar relationships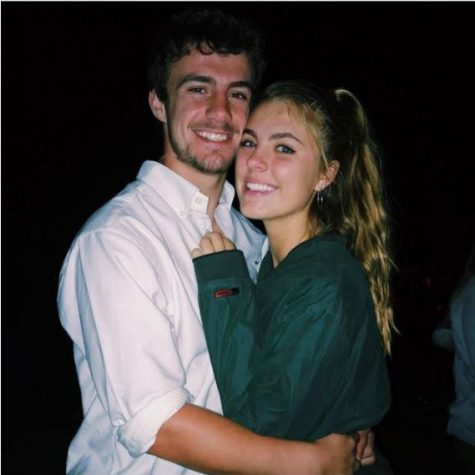 The average high school relationship lasts about five months, but these Kettle Run couples have defied the odds.
During his sophomore year as a Kettle Run student, special education teacher Ryan Wicka met his future wife, Aryn, who was a freshman at the time. The pair's relationship started at the Vint Hill softball fields which happens to be right next to Wicka's childhood house.
"She played softball for Fauquier High School and they were having a practice over there," Wicka said. "When I first saw Aryn I thought she was super cute and mustered up enough courage to ask if she would like to come over and hang out that afternoon, and that was it."
Although the beginning of the relationship was a breeze, that's not to say the following months and years were picture perfect.
"We dated for eight years before we got married," Wicka said. "Over the eight years we fought (a lot) and had to learn to communicate with each other in a way that was both healthy and constructive (versus a normal fight being both detrimental and destructive). I think it probably took us four years to really piece together how our communication should be and really we have worked on it very hard ever since."
Students have also dedicated portions of their lives to relationships.
"We've been dating for just about nine months," said senior Grace Crater on her relationship with Culpeper senior Cameron Collart. "We have so much fun together."
Both Crater and her boyfriend are travel students, commuting to Mount Vista Governor's School every morning since the start of the 2016 school year.
"We met junior year in psychology class and we really hit it off," said Crater. "Our sense of humor is so similar that it makes joking around really easy. Relationships are more fun when you can laugh with each other!"
While Crater and Collart have been dating for nine months, it's always easy.
"We don't have any classes together this year which can make it hard to see each other," commented Crater. "We spend time together before school just talking and catching up, and then on weekends we try to do stuff together, but we live in separate counties so it can be hard. I think we've figured it out though!"
Mary O'Toole and Cameron Wollard, both seniors, have been dating for almost 14 months.
"We've gone to school together since 4th grade but we became friends in sophomore year biology," said O'Toole. "My favorite [part] of our relationship has been having fun with someone I love no matter what we're doing and being able to mature together."
For Valentine's Day O'Toole and Wollard plan on going to Cava.
"It's where we go for basically every date or occasion!" said O'Toole.
Seniors Sara Massei and Andrew Pickett have been together a just a little longer than O'Toole and Wollard.
"We've been together for 15 months, since October 17, 2016!" shared Massei. Massei explained the origins of their relationship came from a matcher maker, and former alum, Hunter Khalatbari, a mutual friend of the couple before they were together.
"I didn't go for it at first — I didn't know Andrew at all! By some stroke of luck we ended up having both our A and B day fourth block classes together that year," Massei continued.
From there it seemed to be fate for the senior class power couple.
"We started talking every day until he finally asked me to Homecoming (I said yes!), and then to "officially" be his girlfriend a couple weeks later on October 17," explained Massei.
Those with more experience in relationships have more insight into what makes them work.
"My advice for couples in high school now would be to take your time and be respectful, communicate appropriately with one another and try and become a better person everyday," advised Wicka.
"I think the key to getting through rough patches, for us, is recognizing our differences and apologizing. There will always be things we don't see eye to eye on, but I'm grateful for these things, without them we'd just be dating clones of each other," said Massei.
While most high school relationships don't work out in the end, this doesn't mean they don't work out for everybody. These fortunate few are some of lucky ones who toughed it out and put forth the required effort to make their love last.
Leave a Comment