Cougars vs. Pioneers
The hockey rivalry that keeps getting more intense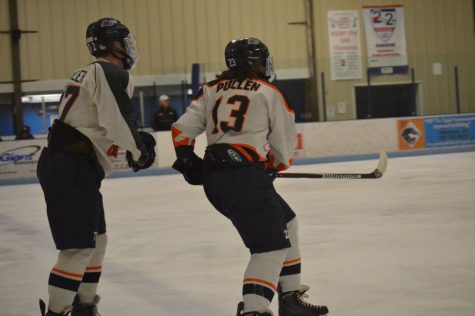 Sports can bring out some of the loudest and most spirited students in high school.
Sometimes this spirit turns into something bigger.
With a new season of ice hockey comes the same team feud from previous years. The Cougars ended their regular season on February 10 with a 3-3 tie in their senior night home game against Dominion/Potomac Falls. However, the most important game was their 5-2 win against their rival, the Patriot Pioneers. The two have been in a heated competition since two seasons ago when Kettle Run was a brand new team. As of now, there is no explanation for the unfriendliness between them.
"There really isn't any specific reason for the rivalry," said senior Gretchen Thomas. "But, it started with all of the guys two years ago. Why not hate Patriot?"
It may be nothing personal, but the 21 players on the Cougars' roster sure are open about their disliking of the Pioneers.
"I don't think anybody in Northern Virginia actually likes Patriot," said junior Nathan Pullen. "We just vocalize it more than other schools."
Though the competition may not seem friendly on the ice, most of the players knew each other before facing-off in high school games. A lot of them have grown up playing hockey together.
"We have all played with most of the Patriot guys at some point in our hockey careers," said Thomas. "So we are all cool I guess."
Even after losing eight of the total 10 games they have played this season, the Cougars are ecstatic after beating the Pioneers. Pullen will remember the feeling of beating Patriot for many years to come.
"It was one of the most euphoric experiences of my life," said Pullen.
Thomas is not concerned with the team's record this season either, especially since Patriot has also lost eight of a total nine games played.
"It doesn't matter that we're 1-8," said Thomas. "Who cares because we beat Patriot."
The Cougars may be ranked equally to the Pioneers in the regular season standings, but this does not stop them from boasting about beating them on February 3. Neither team played well enough to make it to the Conference 22 game, but the rivalry will likely continue for years to come.