Senior Teammates Commit to McDaniel
A four year extension of a Cougar football brotherhood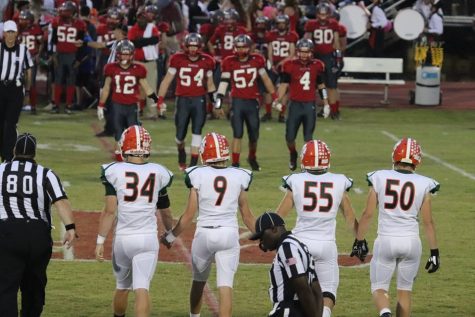 Throughout high school, sports teams become heavy topics of conversation in the halls. Some athletes are less known around the school than others. Whether it be a fundamentally sound player with average statistics, or a strength player making room for skill players, these are the players that make up the backbone of team sports.
After suffering a knee injury that ended his junior year season, senior Jarett Little was talked about less than he deserved entering his senior year. It wasn't until the end of his final season that Little received his school recognition, winning the MVP award for football.
"It was a great feeling," said Little. "But I honestly had no idea that I was going to get it. I thought Andrew Pickett or Casen Chumley were also valid contenders for the award. I feel that was sort of slept on by the general public for the first half of the season, but I definitely showed people that I can play."
Senior Max Delsignore was also an often overlooked key part of Cougar football's offense.
Throughout the 2017 season, Delsignore had 210 receiving yards and six receiving touchdowns (second most on the season to David Haiss's eight receiving yards).
"Max really helped us a lot," said senior Andrew Pickett. "He was an amazing leader throughout the season, never letting any of our teammates get down or under perform. He was one of our keys to our success in this years season."
"This is definitely the best season of football I have ever had," said Delsignore. "I loved every second of it. I loved the team this year and I'm just glad that we could leave the program in a good place."
Although they may be overlooked by some of the student body, the coaching staff never ceases to express their appreciation to all of their players.
"Both Max and Jarett were top notch leaders within our program," said head coach Charles Porterfield. "They were instrumental in the success that we had last season, making an impact on every team that we had the opportunity to play against."
Both Little and DelSignore committed to play NCAA DIII football at McDaniel College in Westminster, Maryland on January 18, making the announcement on Twitter.
Little tweeted, "These boys ain't done playing with each other yet #Getonthehill", while DelSignore tweeted "Another four years of doing what I love with one of my best friends."
"I was ecstatic to hear that they had both committed to McDaniel," said Porterfield. "Not only are they going to get to play football at the college level, but they are going to get to play with a friend. McDaniel is a great school, and I know that they will both have great careers there."
After leaving their senior year on a high note, the two players will continue to do what they love, alongside each other in the years to come. Next issue, The Chronicle will spotlight senior Andrew Pickett and his recent college pick.
Leave a Comment