Knocking Competition out of the Water
Swimming Cougars clutch another great record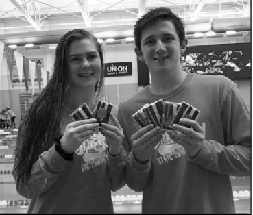 The swimming Cougars wrapped up their season with a state finish to remember. The team earned nine state medals and broke four team records during the Class 4 swim meet in Richmond.
The team was lead by Coach Cherie Adair. Adair has been coaching swim for 26 years and coaching for Kettle Run for the past three seasons. Earlier this season, she announced that this would be her last year coaching high school swim.
"My goal is to develop the same love and passion for the sport as I had," Adair said. "I have loved working with high school team, but there comes a time when all good things must end. I am looking forward to more time with my family."
The captain of the girls swim team, Grace Swift, has been swimming for the high school team since her freshman year. She has been competitively swimming since she was 12 years old.
"I feel pretty great about this season," Swift said. "The team has a great morale and we've really been working together to do our best. I honestly love how much we bond with each other. We are such a close-knit group, and I really enjoy spending my time with my teammates."
Boys team captain Zach Knight has also been on the team since his freshman year.
"I am super proud of the team and all the work they have put in," Knight said.
After powering through the regular season, the swim team took home more wins in the postseason. On Feb. 8, the boys team finished second at the 4C Regional competition.
Individually, seniors Caitlyn Adair and Jake Heenan became Regional Champions. Adair took home the title for the 50 meter Freestyle while Heenan won the 100 meter backstroke.
"Winning at regionals felt amazing,"Hennan said. "Just knowing that out of all the schools in the region, I'm the fastest in that event, is really something special."
Adair felt equally as proud. "It felt really good to win," Adair said. "I've been in a little bit of a slump this year and finally, having my hard work pay off was amazing."
Heenan and Adair have been swimming together since they were in fifth grade and both shared bittersweet feelings about this being their last year with the KR team.
"It feels great, but a little sad," Adair said. "I'm happy to be finished with my high school career, but I'm sad it'll be the last time swimming with my friends. The highlight of my senior season has been senior night, which was really exciting for me because my family and friends got to watch me at one of my last KR meets."
Heenan is also sad to see the season come to an end. "It's definitely a bittersweet feeling swimming my last races for Kettle Run," Heenan said. "I've swam for the team all four years, making it to states each year, and I feel as if I'm going to lose a part of me when I step out of the pool for my last time. I decided early in the season that I will not be swimming in college and plan on just focusing on my academics and maybe doing club."
Although this season is the end of Heenan's swimming career, it marks the beginning of a new chapter for Adair.
Next year, Adair will be swimming at University of North Carolina, Wilmington.