Running Toward A New Record
Seven track athletes advance to state competition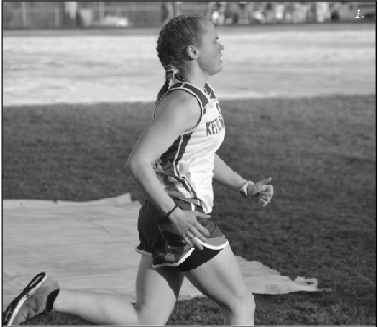 The winter track team is showing impressive athleticism and hard work as they move on to bigger and bigger competitions, notably state competitions.
The regional track competition was Feb. 8 in Hagerstown, MD. Of the 12 athletes that attended regionals, seven advanced to states. Juniors Logan Rapp and Mary Kate Behan advanced for shot put, senior Ryan Schaefer and sophomore Gavin Burnett advanced for the 300 meter dash, senior Hannah Unger advanced for high jump, and junior Evan Torpy and Brooke Arthur advanced for pole vault.
Stephen Rhodes, the head coach for the track team, is impressed with the work that has been put forward this season.
"This team truly acts like a team and it makes me proud that they do," Rhodes said. "With track, we split up on a daily basis based on whether you are a sprinter, distance runner, or a thrower. Even though we split up every day, the team does a great job cheering on each other at meets and practice."
Earlier this season, Torpy broke the school pole vault record with a new record vault of 11 feet 6 inches. This vault also qualified him for the state meet.
During the regional competition, Torpy broke the record again, vaulting 12 feet. Not only did he break the school record again, but he also achieved his own personal goals through hard work and dedication.
"This year my goal was to break the school record," Torpy said. "So, to do that, I practiced all summer and some in the fall to keep my strength up so when the winter season came around, I didn't have to spend time building everything back. I think my success comes from the want to improve and the encouragement from my coaches and peers."
Rhodes praised Torpy for his hard work on and off season.
"[Torpy] always works on his personal goals and is helping introduce others to pole vaulting," Rhodes said. "He puts others above himself and is a great role model for all of our athletes."
Schaefer has also been impressive this year, qualifying for regionals in the 300m dash. His run time is just .06 seconds away from the state qualifying mark.
"Track is my first priority," Schaefer said. "Training every day in and out of school has helped me get stronger and faster. My daily routine [besides track practice at school is] going to the gym on my own time to help me get stronger."
Another all-star athlete on the track team is junior Jada Dudley, who runs long distance. Besides being an excellent runner, Dudley shows true sportsmanship and the mark of good character in her interactions with her teammates.
"No matter what any of the coaches ask [Dudley], she does is," Rhodes said. "She often goes above and beyond what is asked and makes every effort to run regardless of the weather outside. This just shows that her character and work ethic are extremely high, and she continues to set the bar for what is expected from our athletes."
"Besides going to school, my daily routine with running consists of fueling my body with lots of healthy snacks, drinking lots of water, and making sure my body is stretched before I practice," Dudley said. "I think these things, and being determined to get my runs in on the rainy days, I have been able to accomplish the goals I set for myself this season."
Rapp, who is going to states for shot put, also tries to keep his body healthy and does personal workouts to keep in shape. He credits the team's good record this year to each person's hard work.
"I believe this year every athlete is trying their hardest during the track meets, and that's why the team succeeds," Rapp said. Myraida Davis, the sprints coach, agreed. "I think our success this season is a result of the hard work of our athletes," Davis said. "They train and compete in weather most people try to avoidmost days without complaining."
The states competition will be February 22 and 23 in Roanoke, VA.