The Snow Hill Quartet
The musical talent of four high school students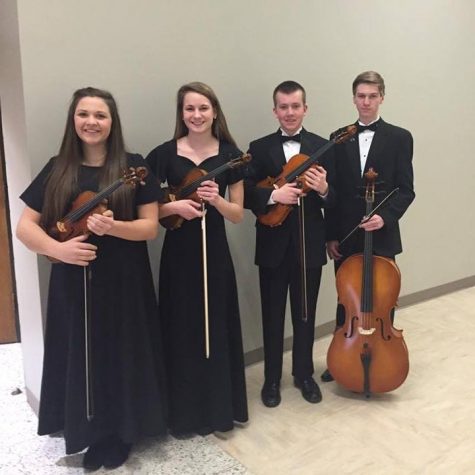 A cellist, violist, and two violinists make up the Snow Hill Quartet, a group of talented musicians from Kettle Run and Fauquier High who have impressed the community with their skills playing orchestral music.
However, the faces in the quartet may not be familiar to everyone. The original members set up the group to continue after they graduated because they did not want the quartet to be a one-time hit. So, once the current members become seniors in high school, they searched for potential new members to carry-on the group's status for the next four years.
The quartet is the brainchild of Harris Young, a 2016 Kettle Run graduate. Young thought of the group when he was asked to perform at an event.
"In my freshman year I was asked to play at a wedding, and I didn't want to do it alone," said Young. "So this led to a couple other people and myself forming the group."
Young wanted the group to keep playing even after he left high school and started looking for musicians to fill the slots that would be left empty after his senior year. Junior Alaycia Smith was chosen as the new leader of the quartet.
"Harris Young contacted me freshman year because he needed a backup violin for performances," said Smith. "He also needed a new group leader for when he graduated."
Smith is in charge of directing the group through practices and organizing their schedules to fit with performances.
"So far we have played for nursing homes for Christmas and other occasions," said Smith. "We played at a fancy brunch for a company party, and we also played for a wedding back in September."
Originally, all of the members of the quartet were students at Kettle Run. Now, the current members attend Kettle Run as well as Fauquier. Other members include John Bush, a Cougar, Tommy Cummins, and Lindsey Finks, both Falcons. Junior John Bush is glad he got involved with the group.
"I wanted to join the quartet to become more involved in music," said Bush. "At the time, I had only been playing the cello for about a year and I needed to gain more experience. Being in a quartet presents challenges that are not in the typical orchestra class. You as an individual represent your part in the group. There are not six other cellists backing you up, so I also wanted to join [the group] to challenge myself."
Smith is the concert mistress in the chamber orchestra, meaning she leads the violin section and assists the conductor, a highly regarded position to hold. Still, she does not want to pursue a music career.
"I do plan on continuing playing violin through college, but most likely as a hobby and outside activity," said Smith. "As much as I love music and playing violin, I don't think I want to major in music."
Bush has other plans for his future.
"I think I will definitely continue with music in the future," said Bush. "If I attend a college that has a student symphony, I would look into it. After college I hope to continue to play with the Piedmont Symphony Orchestra."
As the leader, it is Smith's job to choose who will be next in line for the position, as well as other future members.
"So far we are the second generation, so it's pretty new," said Smith. "But mainly it's just us picking people we think could handle the commitment and playing skills for the quartet."
The next big event the quartet is performing at will be held at Fauquier High School in April. The group is available for contact through email at [email protected].