Major Moves for Alternative Press Music Correspondent
Nick Major sits down for a one-on-one interview
Hang on for a minute...we're trying to find some more stories you might like.

Life can take you to unexpected places, for example, look at Alternative Press music correspondent Nick Major.
Alternative Press magazine was founded in June of 1985 by Mike Shea, who thought underground music was being neglected by radio stations across the Cleveland, Ohio area.  He never anticipated following his career path as a journalist at the age of 25.
"To be honest, it was never really something in my head until I started doing it," said Major. "I always wanted to be in a band. I have loved the scene of music that I work in since I was a kid, and it has always been a dream of mine to be involved. But being a reporter? I never thought about it but then I kind of happened to get this job and I have absolutely loved it."  Major credits many people for his success.
"Many of the inspirations from when I was younger are musicians," said Major. "Blink-182, The Used and My Chemical Romance were always favorites of mine, and I have always credited them for getting me into music; In turn, getting me to where I am now. But now, I look up to people like Ryan Seacrest and Barbara Walters. I'd love to be at their level some day."
He attributes his success as a journalist to his knack of talking to people and being able to have intriguing conversations with people. This lead to his discovery by an unlikely customer.
"I was working at the clothing store Hot Topic when, one day, the owner and creator of Alternative Press, Mike Shea, came in," Major explained. "He loved my personality and how well we were able to chat upon first meeting, and he told me they were looking for a video correspondent in Los Angeles to interview bands."
Major has had many amazing opportunities such as being an Alternative Press Television (APTV) correspondent on the VANS Warped Tour for several years and most recently was able to interview people at the 2015 and 2016 Grammy Music Awards. He considers those events to be some of his most memorable accomplishments in his career.
"It's honesty been so amazing. I grew up going to Warped [Tour] every summer since I was 13; I attended my first Warped [Tour] in 2005, so when I was able to have had toured on the entire thing for the past three summers was absolutely incredible," said Major "It was something I never thought would happen and to be able to interview some of the best artists there for everyone to see is just awesome and ridiculous. I'll never get over how cool that is." Major believes some of his proudest and most memorable interview was his 2016 Grammy red carpet interview with Mark Hoppus and Travis Barker from Blink-182.
"Interviewing Mark [Hoppus] and Travis [Barker] from Blink [-182] were huge things for me, as was covering the red carpet at the Grammy's," said Major. "Both are things I never thought I would do and looking back now that I have, I'm honesty so proud with how I well they went."
When he prepares for an interview, he often ventures out in finding new music from the person(s) he is about meet with, watching on current interviews they have done and browses social media accounts to gather topic ideas.
"The way I love to approach interviews is I prepare no questions and I just sit down with the artist and we have a casual, natural conversation. I have come to find that these turn out to be the best pieces.
To Nick Major, music is big part of his life, and has always been that way. He said that it is very important for people to write about music, because there's so much of it in the world. He really enjoys hearing about how artists got their start and where they are now.
"There is so much music in the world. Especially with the Internet, it seems like there is an unlimited number of bands popping up every day," said Major. "Many of those bands would not get the exposure they desperately need and deserve if it wasn't for publications who are writing about them." "I think I am able to relate to these musicians on a more personal level, since I used to be in a few bands many years ago," Major said. "It starts off with small hometown to playing stages in front of thousands of people."
Major went into the world of journalism in a blind sense, he shared his experiences of going home and recording until his demo videos were perfect, or his experiences of him going into his town and getting to know the locals, just so he could get his name and face known.
"Start small and start today, really get a lot of practice in with local stuff. If you want to interview artists, go out to local shows and chat with the locals," Major mentioned. "It will help you strengthen your journalism abilities and will give you credibility when you're ready to start reaching out to bigger names coming into town."
He also vocalizes the importance of getting out there and just having conversations. He says he just sees his interviews as conversations with amazing people. "Be confident in yourself and know you're great at what you're doing. Confidence is key and you need to fully embrace yourself and your work."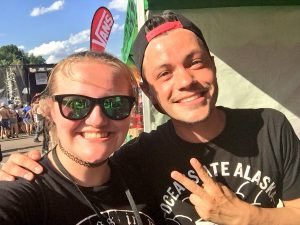 About the Writer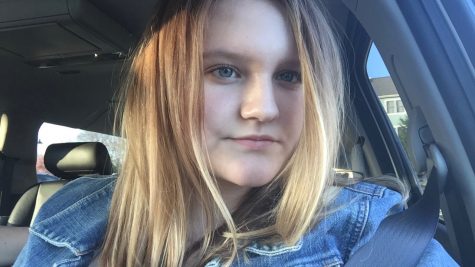 Emma Gray, Managing Editor
Hello! I'm Emma Gray and I'm a senior here at Kettle Run High School. I serve as the Chronicle's Editor-in-Chief!

I have been in the journalism program...