The Circus is Coming To Town
Fleet Family of Five bringing its act to Kettle Run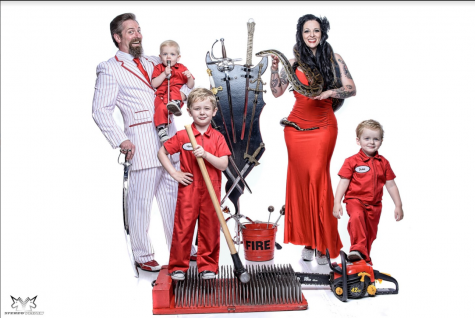 He is an avid circus performer and daredevil; he is also the head of the Theatre Department.
Tyler Fleet – also known by his stage name, Tyler Fyre- is bringing his family act to Kettle Run on October 13. The Fleet Family of Five Show stars Mr. Fleet, his wife Kill-Thrill Jill, and his three sons, aged 3, 4, and 6.
"The Fleet Family of Five Show is a fast-paced and funny, family-friendly, death-defying daredevil stunt spectacular with the glitter, glamour, and gutwrenching thrills of a Vegas show," Fleet said. "The whole Fleet family is excited to bring this carnival classic and uniquely American form of entertainment to this school. We just want to share the fun of our show with our friends and family here – the faculty, staff, and students of Kettle Run."
The Fleets will demonstrate their skills, including: eating fire (Mr. Fleet set a world record as the fastest fire eater in the world), charming a Burmese Python, and sword swallowing. "We will show you live, on stage, up close, and in person," Fleet said, "revealing the scientific secrets to this ancient art which dates back over 4000 years to its origins in India."
Although Fleet and his wife perform in the show, he said it's his three boys who steal the show. "Their favorite act right now is the straight jacket escape," Fleet said. "All three boys have custom-made, knitted straight jackets which bind their arms behind their backs; the boys will then compete to get out of their straight jackets first". Fleet said his favorite part of performing with this family is, "the time we get to spend together working on new acts and rehearsing the show." He added, "Actual show days are really just the icing on the cake. The boys love getting dressed up in costume, learning new lines, and practicing their skills. And who are we kidding? We all love the applause!"
This daredevil show is a fundraiser for the Theatre Department. "All ticket sales go directly into the KRHS Theatre budget which allows us to have high quality student productions throughout the year," said Fleet.
There are costs involved in buying musical rights, costumes, props, set pieces, and everything else that will be supported through this event. Fleet hopes the show will draw more people to see the other Kettle Run shows.
Leave a Comment