Senior a Professional Actor from Nine
Joshua Otten's paid performances of the past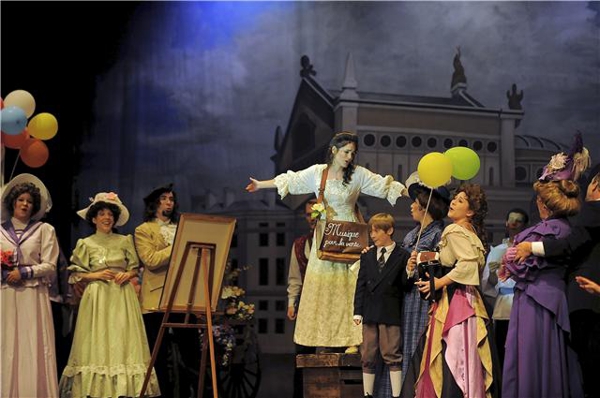 High school is hard enough without the clubs and jobs students typically take on, but imagine having a job that is so consuming, school sometimes becomes a secondary priority.  
Senior Joshua Otten knows this well.  At the beginning of his acting career, Otten landed a paid role in "Hello Dolly" at the Riverside Dinner theatre, making him a professional actor at just nine years old.
"It was a big opportunity, because the lead was going to be Sally Struthers, a former television star from the show "All in the Family," Otten said.  To my amazement, I received the part, and I learned that I really loved acting. I continued to audition for shows at Riverside and was often cast. As I grew more experienced, my parts grew as well.  When I was 10, I was cast as "JoJo" in "Seussical, Jr.," which was my first child lead role. A few months later, I played "Charlie" in "Willy Wonka, Jr.," and my roles continued to grow."
Eventually, Otten found himself in a consistent lineup of plays.  His schedule was, and still is, packed during production season. Before Otten can perform on stage, he has to go through the audition process.   
"Auditions vary depending upon the theater, show, and role you are seeking," Otten said.  "Typically, auditioning for a musical production requires advance preparation of one or more songs, and sometimes preparation of "sides" [which is a] short portions of the script.  A non-musical play may require only sides.Some auditions ask everyone to arrive at the same time, which may mean many hours of waiting. It really depends upon the individual show and director.  The hardest part is the wait before casting, because you are not often told when the decision will be made, and you are rarely informed if you do NOT get the part. So, just when you think you've been passed over, you may get a call telling you that they want you for the part."
Otten has performed in shows that have run for 3 months and others were 7 months of straight performing, this time not including rehearsals.  
'The number of performances each week also varies, but typically, full-length shows like "Hello, Dolly"  require at least five performances per week, each of which is 2-3 hours long," Otten explained. "Actors are expected to arrive 30 minutes before the show begins, commonly called the half hour."   
Even if Otten gets lucky with a shorter production, he still has to factor in the commute time between Fauquier and the professional acting companies found near DC and Baltimore.
"On one occasion [of getting to rehearsals], the traffic was so bad that two hours was not enough.  After that, we tried to leave three hours before the show began, because being part of a professional show is an important responsibility.  If I do not arrive on time, then unless I have provided enough notice to call in my understudy, the show cannot go on."
While Otten juggles the responsibility of being a responsible, professional actor, he has to also find time for his school work.
"It is often challenging to juggle school work with an acting gig," Otten said.  "I originally managed to avoid this problem, because right after my first professional production, my parents took me out of private school and began homeschooling me.  Since I started high school, I have not been involved with as many shows because of the limitations of my school schedule. When I was a Sophomore, I was cast in "Carousel" at Arena Stage, and I was homeschooled for a semester in order to attend rehearsals during school hours."
Regardless of the strenuous and strict schedule Otten has to follow during show season, the Kettle Run senior has found ways to take advanced courses.
 "I also was enrolled in AP World History through Virtual Virginia, and the constant deadlines of that class were difficult to juggle," Otten said. "This fall I was cast in "If I Forget," but I wanted to stay in school for my senior year, and Studio Theater was great — they tried very hard to work around my school schedule, and I only needed to miss classes occasionally. Even so, nearly every day after school, I raced to rehearsals or performances in Washington D.C., and I kept up with my school work by doing it backstage during the performances, between scenes."  Sometimes I stayed after the show in order to finish assignments that were due online at midnight, only beginning my trek home after my assignments were submitted. It wasn't easy, but school is important to me. Somehow, I have always managed to get my work done on time and maintain A's in my classes."
In addition to his academic accomplishments, Otten has found a way to further cement his credibility within the acting community.  
"I am eligible to join the Actor's Equity Union," Otten explained.  "One must have at least twenty-five weeks of experience performing in an Equity production, and currently, I have twenty-eight, not including the time from my most recent show.  However, I have not joined yet, because this would limit my work to only Equity performances, which would mean that I could not perform in shows like school plays and non-Equity professional productions."
Through all of his successes, Otten remains grounded on the matter of keeping a healthy life balance.
To be honest, when I am in High School, I tend to forget that I am an actor," Otten explained. "It is as if when I am focused on school, I am a student. When I am in a show, I am an actor. This mindset has kept me from feeling out of place in either environment, and, quite frankly, enabled me to fit in and feel like everybody else.