South Indian Representation Included in Bridgerton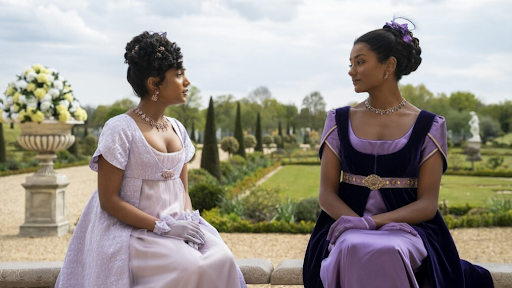 From the moment the first season of Bridgerton came out on Netflix in 2020, it became incredibly popular. Now that the second season of Bridgerton has been released, there has been a resurgence in its popularity. The show is based on the Julia Quinn book series of the same name. 
Season two of the show follows the romance between Viscount Anthony Bridgerton and Kathani Sharma, but that wasn't the most exciting thing about this season. This season, two of the leading actresses were of Indian descent. This was in line with the precedent set by the first season, where there were many leading actors who were of Black descent. Simone Ashley and Charithra Chandran played the Sharma sisters, Kathani and Edwina, respectively. 
This representation was important because it wasn't just token representation. The characters were seamlessly added to plot without it needing to be addressed that they were Indian or "exotic", which can be the problem with representation in other films and TV shows. The fact that they were Indian was not a personality trait, but rather an accepted part of their character. Furthermore, the characters were written from a female perspective rather than a male perspective, giving them qualities that did not just align with their gender. The Sharma sisters were central to the plot and were depicted as strong women that could be role models. This was a particularly interesting thing to see in the era that the show was set. Though the show may not be the most historically accurate, it was wonderful to see two women, particularly two Indian women, able to display such strong characteristics in England at that time. 
True elements of Indian culture were also added seamlessly into the plot. One example of this would be the use of "appa", "didi", and "bon", which mean "dad" (Tamil), "older sister" (Hindi), and "little sister" (Bengali), respectively. The show also included jewelry worn by the sisters that was distinctly South Asian, such as the wedding bangles that Kate gifts to Edwina. This shows an incredible attention to detail by the creators of the show, which is further emphasized by the South Asian accents added to the sisters' clothing. The clothes included South Asian fabrics and details such as beads, florals, and sequins. 
This season of Bridgerton also included Indian traditions, such as the Haldi ceremony, a traditional pre-wedding ceremony. Turmeric paste is applied to the bride's face and arms. This is thought to bring blessings and good fortune to the couple. Kate and her mother are seen applying the paste to Edwina in a scene in the show. To make this scene even better, a instrumental version of "Kabhi Khushi Kabhie Gham", a theme from a 2001 Bollywood movie, can be heard in the background
Additionally, both actresses are of South Indian descent, which is exciting as most Indian representation is North Indian. Both Ashely and Chandran hail from the state of Tamil Nadu.
Many fans, specifically South Asian fans, were excited to see this level of representation. People felt as if they finally had characters to relate to and were able to see their culture reflected back at them. South Asian representation has not always been positive, but it's safe to say that Bridgerton accomplished excellent representation with ease.