Girls Who Code Comes into the Spotlight
The new group brings opportunities for any student to last a lifetime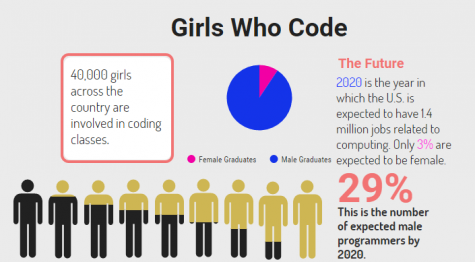 Girls Who Code is making a mark on Kettle Run by bringing the girl powered coding program into the light for many female students for the first time.
Girls now have the opportunity to take part in the Girls Who Code program, thanks to Addie Costa. This club is introducing new careers for girls who didn't know they existed.
Costa is the girl in charge of the club. She spent this past summer enrolled in the seven- week long program and started the school year ready to begin her own chapter.
"The summer immersion program opened my eyes to to what coding was because I never knew how powerful it was," Costa said. "Every day people use something that has been coded, every single day of their lives. This opened my views about it because I didn't realize how powerful and how prevalent it was. As well, the immersion program Girls Who Code taught me that yes, it can be hard, but I can do it. Even though I'm not the most amazing programmer out there, they made me feel confident in saying: Yes. I am a programmer."
Math teacher Scott Allen has helped bring the club to life. His experience in teaching Computer Math and AP Computer Science is key to developing confident young coders.
"I wanted to help promote coding to girls, as female programmers are in high demand," Allen said. "I usually have around three girls in my Computer Math class and only one, and sometimes two, girls in my AP Computer Science class, and I'd like to see more girls enrolling in those classes, so I thought this would be a great opportunity to educate Kettle Run students about coding."
Allen hopes the club gains in popularity.
"I'm hoping the club helps the Kettle Run community by allowing girls to see that anyone can code, especially girls," Allen said. "Some girls may be intimidated by coding because they think it is what 'boys are supposed to do,' but that is not true. So the hope is to break that stigma and allow girls to experience the power of programming."
The girls who attended the first meeting learned a great deal.
"At the first interest meeting, approximately 80 to 85% of the 30 students who came did not realize we even had computer programming classes offered at Kettle Run; therefore, I'm also hoping that this opens the door to girls wanting to pursue taking Computer Math and Computer Science in the future where they will be able to build out full-scaled projects and have something to showcase."
Allen is hoping the club will have a positive impact on the lives of new coders.
"Girls that have taken Computer Math and Computer Science in the past have always offered a different perspective and ideas into building their projects than boys do," Allen said. "My opinion has changed slightly with the addition of the iSTEM class and the Girls Who Code club. I've seen more confident, driven female students who are not afraid to offer their opinion on a subject or task at hand; students who are willing to step up and take charge. I've seen the 'lightbulb' go off in some of the girls during the first few meetings with Girls Who Code where they are finding it really cool to be able to program something to move on their screen and then from there try out new ideas on their own, pushing their abilities to a new level."
Members of the club get to see what the coding world is like first-hand. Along with the new program, girls learn how to to code and what it could mean for them in their futures.
"I initially signed up because Addie had talked to me about it during computer math and said I should try it out because I was really enjoying learning about programming and coding," senior Tress Cochran said. "I've discovered that computer science is a field that is constantly growing, yet it has a very small number of girls involved. Coding is something I never thought I would be interested in but once I started I found myself enjoying what I was doing. I think Girls who Code is an important club because it gives many girls the chance to learn about coding who don't have the chance to take the class. It also gives the opportunity to collaborate and learn new things from other girl coders."
Costa goes in-depth about how important having a Girls Who Code Club is to her.
"I wanted to create a family through coding," Costa said. "I wanted girls to be there for each other as they explore the world of programming. This club is just one small step for them, and I'm glad I was there to create it. They don't have to love programming like I do, but to know that I am practically teaching them a skill that is never going away in our society is pretty amazing."
The club is open to new members.