Discovering Your Roots in School
A grant allows students to research their ancestry.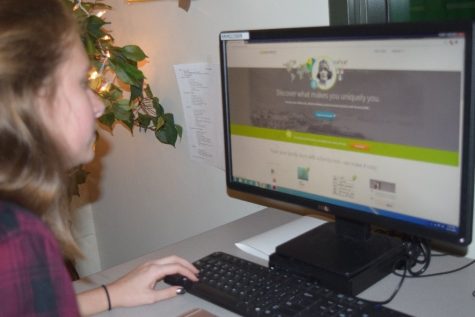 Erin Hogge
Sophomore Carly Herbert looks into the new Ancestry program during lunch.
Students can find out family history before or after school on any school server.
Have you ever wondered where you came from? If you are related to anyone famous? If so, you're not alone.
The human race is made up of a never ending web of people connected in some way. With the billions of connections, everyone is bound to have some relation to a well known celebrity or person of history.
Ancestry.com usually costs users $99 a year. However, thanks to a grant written by Amy Acors, the Social Sciences Coordinator, Fauquier County students and staff can access the program for free by going to www.ancestryclassroom. com. The only catch is they have to be on a school computer for it to work.
Acors was excited when she found out about the opportunity to bring ancestry.com to Fauquier County schools.
"About a month ago, I saw an advertisement on Twitter that Ancestry was now taking grant applications from schools to allow students to be able to use their resources for free," Acors said. "So I jumped on it."
Acors said completing the grant was easy.
"The application was relatively simple, and with administrative approval, we shared the news first with librarians and then with history and social science teachers thinking they would be most aware of the projects that this resource would be helpful in," Acors said.
Acors hopes students will use the site for research.
"When I taught history at Liberty, students were involved in projects that I felt having access to the resources through Ancestry would have been extremely helpful," Acors said. "But the only way to access was to visit the public library, and an institutional membership, at that time, was too expensive."
Librarian Michelle Frazier has already used the program.
"I was really excited to use the program. As a third generation Polish-American, I was able to trace back my great grandparents and a family headstone back in Poland, which was really interesting. My mom's brother died before she was born and her and my aunt were trying to find his gravestone. They thought his name was Raymond Wakowski, but through the program we discovered that it was Vakowski, and that they had been searching under the wrong name. So now my mother can go back and see her brother's headstone," said Frazier. "The process got harder the further I went back. My dad's side of the family is Lithuanian, and as I went through the documents I saw that the names were being spelled differently. I guess when they immigrated to the U.S. the translations changed depending on who interpreted it. It was really interesting to see my name written differently and to also see the handwritten documents of my family."
Although Frazier believes there are great benefits to this program, she also believes that precautions should be taken.
"Exercise caution," Frazier says to students. "You definitely need to have open communication with your family before you start this. My grandparents weren't married, which was a bit taboo in their time, and not everyone is okay with discovering that. It could open up some doors of a family's history that people might want open. This program would be great for history projects and biographies. I think that students should stick to other backgrounds of history before they get into their own."