Class Spotlight: Women in History
This newly created class touches on important global injustices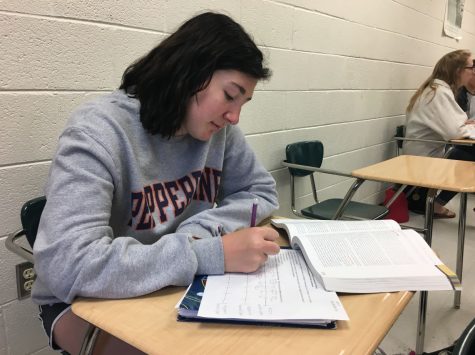 If learning about female criminals, African American leaders, and Latin American culture sounds interesting, then Women in History may be the class for you.
The new course offered at Kettle Run covers the history of minority groups around the world. Not only do students learn about women in history, but they also learn about African American culture, Latin American leaders, and female criminals. Any sort of minority group you can think of is most likely going to be covered in the course.
There are some heavier topics, however. Senior Jacob Mattson found some of those topics difficult to discuss.
"We did a unit on human sex trafficking," said Mattson. "We watched a Lifetime movie about what happens to girls in the business, and it's just really sad. But, it was really interesting to learn about."
Junior Elizabeth Nefferdorf enjoyed other aspects of the class.
"The history of women in crime has been my favorite part so far," said Nefferdorf."It's a really cool part of history that we don't really get a chance to learn about in any other classes."
Though she already teaches World History I Honors and World History II AP, Michelle Cooper was excited to start teaching the minorities studies class.
"I did not think so many people would show up," said Cooper. "Right now we have one class with 28 students. It's much bigger than I expected. I feel like I would have been more prepared if I had known just how many people were going to sign up."
Because this is only the first year the class has been offered, there are many things Cooper, as well as her students, are working out.
"I'm definitely going to have to create a better plan for next year," said Cooper. "Over summer break I'm going to have to work on organizing the course schedule and defining the topics we're going to learn about. It's kind of trial and error, especially since it's only the first year the class has been offered."
Because the class has grown in popularity this year, next year it could be even bigger.
"I took this class because a lot of my friends signed up," said Nefferdorf. "It's fun because we get to do a lot of group projects together. Also, it's interesting to see how women are portrayed in different cultures globally and their freedoms."
"Next year, I'm hoping for the same number of students or less," said Cooper. "I think that the maximum capacity we could have is one class with 28 students, so exactly the same as what we have right now. If too many people sign up, it's just going to be based on whoever's schedule it fits into."
Though there are only three other males in the class, Mattson does not mind being the minority. "I mean, I kind of feel dominated by women," joked Mattson. "But it's alright."
Regardless, Mattson still recommends the class to others, as does Nefferdorf.
"It's a good class for people who are open-minded and willing to see the world from different perspectives," said Nefferdorf. "It's interesting to see how women are portrayed in different cultures globally and their freedoms."
Women in History is the perfect elective class to enroll in if you are interested in learning about the struggles minority groups have faced and still face today. Sign up before the course fills up for next year!