March for Life Draws Students In
Pro-life students participate in the 2017 movement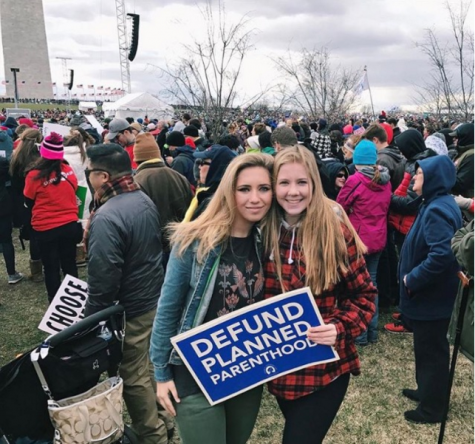 On January 27th the annual March for Life event took place to protest abortions and show support for Trump's executive order to stop funding for Planned Parenthood. The March for Life is a protest that occurs every year in January. The first March for Life was in 1974, the year following the Supreme Court case Roe vs. Wade. The Supreme Court ruled the termination of a pregnancy is protected under the 14th amendment's privacy clause. Roe vs. Wade was a controversial case in the 1970s and continues to make an impact on today's society.
     "I stand up for the rights of the unborn, they who cannot speak for themselves," said president of Students For Life [SFL] Marie Tessier. "The March for Life is a wonderful display of peaceful protest, and I'm proud to be a part of it."
     "I go to the March for Life every year I can. I find it a great place where many people from different backgrounds and faiths to demonstrate our support and love for life at all stages," said sophomore Jack Tessier.
     Most who attended the march are supportive of President Trump's executive order to defund Planned Parenthood.
     "Planned Parenthood should not receive federal tax dollars," said sophomore Cosette Cusson. "They are a for profit entity that grosses hundreds of millions of dollars in profit from the abortions they provide."
     The Student's For Life president stated, "I wholeheartedly support the defunding of Planned Parenthood. Although this organization claims to provide prenatal health services to women, further investigation proves their one goal and focus is to perform abortions."
     Most of those who marched support Trump's stance on abortion.
     "I support any candidate that values life from conception until natural death. Trump was the only candidate who believed in protecting the intrinsic value of the unborn," said Cusson.
     Tessier said, "I support defunding Planned Parenthood. Taxes that my parents pay to help the government shouldn't be used to something that kills, or at the very least goes strongly against their moral convictions."
     The Supreme Court case Roe vs. Wade made abortion legal under the 14th amendment with some stipulations when falling under the health of the fetus in the third trimester and the health of the mother in the second and third trimesters.
     "I have marched for as long as I can remember and will continue to do so," said Cusson.
     The slogan "We are the pro-life generation" was popular among the younger marchers who were in attendance of the march in January. Support was shown among more influential people too, Vice President Mike Pence spoke openly at the march, making him the highest ranking official to ever do so. He opened his speech with the words, "I thank all of you on behalf of President Donald Trump." After which he stated, "Life is winning in America because of all of you." President Donald Trump tweeted his stance for the march saying, "The #MarchforLife is so important. To all of you marching — you have my full support!"