Celebrating 10 Years
From 2008 to 2017, Kettle Run has come a long way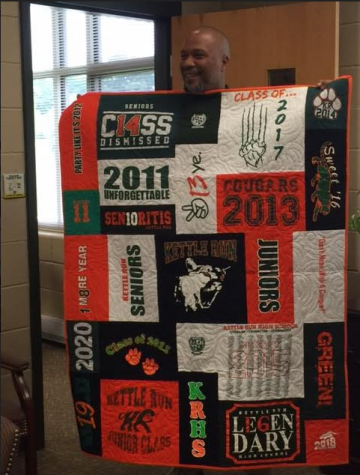 This is us. . . ten years later. Three state championship titles, a successful football program, an award winning publications program, a Blue Ribbon music program, a thriving iStem program and a school full of spirited students.
"I've seen more spirit from this year's senior class than I've seen from any class in the past ten years," Publications adviser Shelly Norden said.
Kettle Run has come a long way since opening its doors back in 2008. Although it's successful now, getting to this point was not easy.
In 2008, 735 students from Fauquier and Liberty High Schools, and various middle schools came together to form a new combination. There was no senior classthe student body consisted of freshmen, sophomores, and juniors.
These students were joined by 116 faculty and staff members. Spanish teacher Nancy Fermoselle was in the building that first year and she said it was not easy.
"Many students refused to participate in spirit week that year and a lot of the sophomores and juniors wore Liberty or Fauquier colors instead of Kettle Run colors," Fermoselle said.
"There were a lot of negative attitudes in the building, and a lot more behavior issues than we have now." Assistant Principal Linda Lee agreed. "People resented…not being able to choose [to come to Kettle Run]," Lee said. "Everyone was familiar with how things were run in their building, and they…assumed that's how it would be here."
Many of the programs started out small.
"My newspaper staff consisted of six students that first year," Norden said. "Three were from Liberty and three were from Fauquier. It took them awhile to warm up to each other."
Attendance officer David Noonan was part of the junior class that first year.
"After spending two years at a different high school, and for the most part, cheering for that high school throughout the elementary and middle school years, all of a sudden changing that pride was very difficult," Noonan said.
Alumnus Alyssa Gorman, who was in the first sophomore class, also noticed resentment from her peers.
"Everybody wanted to be at their other schools because they didn't want to be in a new school," Gorman said. "Most people dressed up in previous school colors during spirit week."
In addition to a building full of sophomores and juniors who didn't want to be part of the new school, sports programs also suffered.
"It was hard for many of the varsity teams to compete since there were no seniors in the building," Norden said. "The varsity teams also consisted of players who used to compete against each other so they had to learn to come together as a team."
Noonan was part of the first basketball team. He explained how his attitude changed once he became part of that team.
"Instead of 'Liberty' across my chest it said 'Kettle Run,'" Noonan said. "By the end of that first year, the majority of the students had changed their allegiance from either Liberty or Fauquier to Kettle Run."
While many juniors were upset about coming to a new school, history teacher David Kuzma said the freshmen were excited to be part of something new.
"The first few freshman classes were very excited to be here," Kuzma said. "Ultimately they created the initial identity that the student body rallied around ever since."
Noonan has noticed a lot of changes since that first year.
"Since there was no senior class that first year, it seemed like there were barely any students actually here," Noonan said. "You could walk down the halls and wouldn't have to move out of anyone's way because there was so much space. Today, you have to constantly be looking so you don't run into anyone because the halls are filled. Also, when we opened, phones weren't allowed like they are now, so when we walked the halls, we actually talked to each other instead of staring at a screen and hoping we didn't walk into someone."
Those faculty and staff members who have been here since day one are proud of how far the school has come.
Associate Superintendent Major Warner was the principal when the school opened.
"My hope ten years ago was for us to have a school community that students and parents could identify with, and were proud to call their own, where faculty felt good to walk into everyday and were happy to work," Warner said. "More than anything, I wanted to have a healthy and safe school culture."
Warner said in ten years, the staff exceeded his expectations.
"You only need to look at the levels of participation in extracurricular activities, the academic outcomes and the levels of school spirit that are displayed to truly understand just how unique Kettle Run is," Warner said.
Dr. Nosal is thrilled to be part of the KR community.
"It's my favorite place I've ever worked," Nosal said. "Everything from our stellar theatre program to our superior music program shows the awesome growth on Academic Avenue."
Leave a Comment