Major Change for Cougars
What our new principal will bring to the table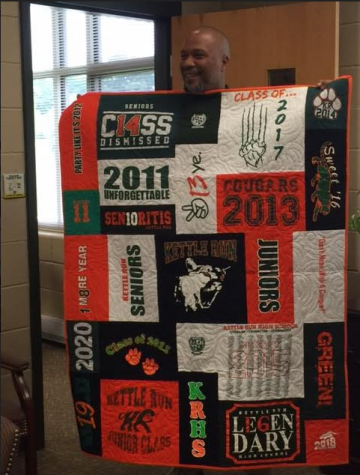 Every new school year brings changes, but some more so than others.
Meaghan Brill was named the new principal of Kettle Run this past spring and officially started the position June 5. As just the second principal of the school since Major Warner, who was recently named Fauquier County Public Schools' associate superintendent, Brill has transitioned smoothly into her new role.
In an email Warner wrote, "When you get accustomed to seeing someone on a daily basis, you get use to the routine. Change can be hard in the beginning, but it is an opportunity for this community to be exposed to new energy, ideas and leadership. I have had a tremendous outpouring of support, but people are equally if not more excited about Mrs. Brill being appointed and that speaks volumes of this community and its belief that they simply want the best person to lead their school and I believe they have found that person in Mrs. Brill."
Leaving the school was bittersweet for Warner who had a nine year tenure and cherished his time at the head of the school.
"I will miss this place, but most importantly the students and staff," wrote Warner. "I wish for much success. I believe that her leadership will take Kettle Run to another level. I hope that she finds balance and enjoyment in the job."
Brill grew up in Loudoun County and graduated from Loudoun Valley High School. After high school, Brill attended Virginia Polytechnic Institute and State University, earning an associate's degree in Agricultural Technology, a bachelor's degree in Agricultural Education, and a master's degree in Educational Leadership and Policy Studies. Currently, Brill is pursuing a doctorate degree in Agricultural Education.
Since before the school opened in 2008, Brill has played an active role in the functioning of Fauquier County Public Schools. She left her position as an agricultural education teacher at Fauquier High and was hired in 2007 as an agricultural education teacher at Kettle Run. She rose up the administrative ladder from there.
In 2013, Brill was named the school's third assistant principal as a replacement for Clarence Burton III, and is now the top dog at Kettle Run.
"This is my twelfth year [working in the Fauquier County Public School System]," said Brill. "In many ways, I think it is helpful that I worked at Kettle Run for 10 years in several different roles. I have been able to take what I have learned along the way as well as the knowledge and insight my colleagues and mentors have shared to help shape my leadership style."
While students were enjoying their summer vacation, Brill was hard at work preparing for the upcoming school year.
"The first year of anything is always the most challenging," said Brill. "Learning a new role, understanding responsibilities, and working through difficult situations will be both challenging and rewarding. I look forward to an opportunity to reflect on my first year and become a better educator because of this experience."
There were approximately 25 applicants vying for the position, and Brill outshined her competition throughout all of the five different stages in which the candidates had to participate.
First, a selection of the candidates had to be interviewed from among the applicants. Second, the selection committee conducted the candidates' second interview of the process. Third, the senior staff interviewed the candidates for their third interview. Fourth, Superintendent David Jeck interviewed the last few candidates one-on-one for their fourth and final interview. Lastly, the school board formally approved Brill as the new principal and she was subsequently introduced to the staff members at Kettle Run.
Choosing the right person for the job was hard according to Jeck.
"We had many very good, highly qualified applicants," said Jeck. "Kettle Run High School is a very attractive to place to work, so none of us were surprised by the quantity [of applicants], but it did make the selection process more difficult."
Once the selection committee started to narrow-down the pool of candidates, the obvious winner stood out amongst the others.
"Outstanding assistant principals typically become outstanding principals," said Jeck. "Additionally, Mrs. Brill is a very smart, very level headed, and very innovative school leader. I think people will, if they have not already, warm to her style and will recognize her commitment to the needs of students."
Willing to listen to students and wanting them to be successful, Brill wants people to know that she is here to help and has a genuine interest in every student's well-being.
"It is an honor to be the second principal of Kettle Run High School," said Brill. "It was my privilege to work with and for Mr. Warner and I hope to continue the tradition of excellence associated with Kettle Run. Change brings an opportunity for growth and I am excited to continue my journey here."
Leave a Comment