Profile of a 21st Century Student
Virginia rolls out the red carpet for education reforms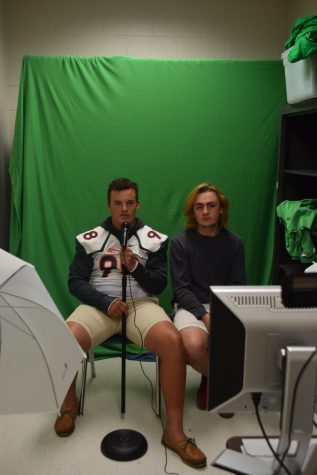 If you're not a good test taker, and you prefer hand-son learning, you're in luck. The Virginia Department of Education, VDOE, is moving away from standardized testing and into a new way of assessing student knowledge. By eliminating a few SOLs, experts feel teachers can spend more time helping students develop skills that translate beyond the classroom. Dr. Amy Acors, director of instruction and social services, calls these skills the Five C's: collaboration, communication, creative thinking, critical thinking, and character [teaching students to be responsible citizens and active members of the community].
"We are going to allow students more opportunities to practice these skills, meaning debates and public service announcements," Acors said. "Students will see that teachers ask them to do more hands on learning rather than lecturing."
Acors also said students will begin to see more service projects, internships, and other activities that will help them transition from the classroom into the workforce more smoothly.
"The state kept hearing employers say they were getting students who tested well, but they didn't possess communication skills off of paper, and we will start taking steps to prepare [students]," Acors said.
Junior Anna Cottrell thinks education reform is necessary. "I do think that teachers just telling us something we need to know specifically for an SOL, and not connecting everything so we can actually retain information, isn't the best way of doing it (teaching)," Cottrell said.
The gradual movement towards hands on learning has more than just the VDOE excited.
"Students love doing hands on activities," said junior Lauren Leonard. "[We] will remember [information] better because it will be fun rather than textbook learning they think is boring."
"I believe hands on learning is the best way to teach students," said senior Timmy Ryan."Standardized tests force a class to focus on the completion of a single test rather than gain a life skill."
"I'd rather do hands on learning, especially because I get bored easily," junior Grace Small said. "[In art] it's very individual, we sit at tables and we can socialize but it's our own work."
Education is an evolving field, there are new developments and studies into how students learn and what skills are needed to flourish in today's socioeconomic environment. The state is pushing schools to take steps to ready students for post-high school life.
"Good interpersonal and communication skills continue to be a key to success in many endeavors," Steven Payne, English and reading superviser, said. "The English standards of learning and our local curriculum stress collaboration, ethical use of sources in research, critical and creative thinking, and all areas of oral and written communication."
Payne believes there are already many classes that address these needs.
"Any course where writing is not only assigned but actually taught," Payne said is a class that meets the needs of a 21st century graduate. "I am happy to report that my own sons have received some of their best writing instruction from their history teachers not only their English teachers. Our students simply must be challenged to write critically and persuasively for a variety of purposes and for authentic audiences. It is a must."
Changes will be put in place for next year's freshman class (the class of 2022), "The current classes don't face many changes but for the next year of freshmen, it will be a different high school experience," Acors said.
Leave a Comment