Who Said Cougars Can't Swim?
Swimmers are dominating in the water this season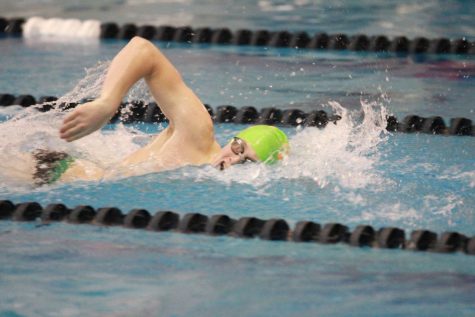 As the season progresses, the Cougars are swimming their way into school history.
The co-ed varsity swim team has won the majority of its five meets this season with only 34 swimmers on the roster. This is the first season with a new coach for some of the swimmers, though many know Cherie Adair from her other head coaching positions. Adair coaches for the local Chestnut Forks Swim Club summer league and for the Nation's Capital Swim Club. Adjusting to another style of coaching can be difficult for any athlete, but this transition has gone smoothly according to junior Alaycia Smith.
"It's [practice] harder but we learn more in depth about our strokes and about our form," said Smith. "She's really helpful with that. She actually brought in her iPad and filmed our starts and turns so we could really see what we needed to work on. But it's definitely harder; we do a lot more challenging sets."
Although the five practices per week are tough, Smith enjoys the positive energy Adair has created within the team.
"She's [Adair] really good at interacting with us. She's like a friend to us," said Smith. "She's super fun and actually gets to know us."
Some of the female swimmers have managed to break records from previous seasons for individual events.
In an email Adair wrote, "We have had four school records broken so far."
The records broken were the women's 200 freestyle, 500 freestyle, and 100 butterfly by freshman Erin Kerrigan and the women's 100 freestyle by sophomore Caitlyn Adair.
"I see a few more being broken at States," wrote Adair.
With 11, year-round swimmers, dominating in the water, the team was on its way to the Conference 22 meet. Under the previous head coach, Angie Smith, the women's team won the Conference title in the 2015-2016 season. Even as the new head coach this year, Adair was looking for a first place finish from both of her teams.
"Unfortunately, we have not swum against Freedom High School, so I do not know how their team looks," wrote Adair. "Our girls beat John Champe, Fauquier, and Liberty so I am very hopeful for another conference championship."
The Cougar swimmers finished their regular season on January 21 at Manassas Park High School against Brentsville and Liberty. The swimmers are looking forward to their last few meets.
"I believe we are going to have a very successful postseason," wrote Adair. "The team has been training extremely well. They come in excited, work hard, and challenge themselves every day. I also believe we have quite a few swimmers that will most likely make the top eight at State finals. Their hard work will pay off!"
Ten swimmers have made a combined 14 state-cuts in both individual events and relay teams.
"I believe we will qualify the girls 200 freestyle relay and a few more individual events from Andy Whitted and Caitlyn Adair," wrote Adair. "We also have a great opportunity to send a few more swimmers who will qualify at Regionals because the top 10 go to States."
The swimmers who have made state-cuts so far are as follows: Garrett Finan, 200 Individual Medley, 100 freestyle, and 100 butterfly; Tanner Smith, 200 I.M., 200 freestyle, and 100 breaststroke; Nick Fallows, 50 freestyle and 100 butterfly; Jake Heenan, 100 backstroke; Caitlyn Adair, 100 freestyle; Erin Kerrigan, 200 freestyle, 500 freestyle, and 100 butterfly.
The relay teams that have state-qualifying times are as follows: Boys 200 medley, 200 freestyle, and 400 freestyle consisting of swimmers Jake Heenan, Garrett Finan, Nick Fallows, Tanner Smith, Parker Webb, and Andy Whitted. Girls 200 medley and 400 freestyle consisting of swimmers Caitlyn Adair, Molly Maranto, Erin Kerrigan, and Ally Baccus.
The post-season began with a third place finish for the boys team and a second place finish for the girls team. The Regional meet is at 4 p.m. on February 11 at James Madison University. The 4A VHSL State meet is at 7 a.m. on February 14 at SwimRVA in Richmond.