More Bling for Boys' Soccer
The 2017 Varsity Boys' Soccer team, coached by Phil Roper, won the state championship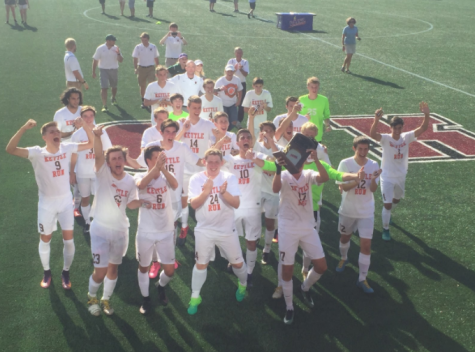 It all came down to sudden death.
"We were awarded another free kick near the top of the box in the first minute of the sudden death overtime," Coach Phil Roper said. "Reece took a great shot that dipped down right in front of the keeper making it near impossible to control.  The ball popped out to the right side of the goal and Bhayle was there.  Bhayle made the unselfish pass back to the middle and Nick Seyler buried it in the goal.  Game over.  We're state champions!"
The team defeated Charlottesville, in overtime, to win the state championship, ending its nearly perfect season 21-1-1.
Roper said there were a lot of things that contributed to the success of the team.
"First thing that comes to mind is composure," Roper said. "In every game, players are going to have to deal with any or all of the following:  screaming parents, screaming fans, a cold rain, maybe a referee that you don't feel is calling a very good game.  We stress that you can't let those things in.  If you can block it out and just play the game, you will have much more success."
Although all players were part of the team's success, there were a few stand outs.
"Reece Cooke with his speed up top made defenses have to shade their players to his side leaving gaps in the middle and weak side for us," Roper said. "Bhayle Kearns holding down the middle of the field and helping us control possession, Nick Seyler with his scoring prowess, Julian Hernandez with his speed and lock down defense and Jakob Wine with that unbelievable bicycle kick in the state semifinal game to get us to the state final."
This latest win gave Kettle Run a national ranking. According to maxpreps.com, the varsity soccer team is ranked 41 in the nation and third in the state.
With all the success the team has had, Roper said he doesn't push the players.
"I honestly don't do much in the off-season," Roper said. "A majority of our players play on club or travel teams or play other sports year round.  As long as they can commit to the team during our spring season, we really don't have to make players commit more of their time in the off season."
Roper loves coaching and looks forward to  many more seasons on the field.
"I enjoy that moment in the season when the team comes together, when players learn to trust and rely on each other," Roper said. "They can be critical of each other without taking it personal, because they know we all have the same goal of wanting to be successful.
Leave a Comment