Tee Up for the Post Season
The golf team is progressing into the post season and continuing onto regional tournaments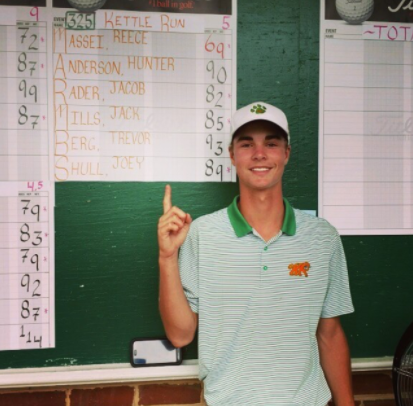 Despite the fact that they finished eleventh out of twenty teams in their first tournament, the Kettle Run Cougars have some returning talent to help them stay at the top of their conference.
    On Wednesday, Aug. 2, Coach Dale Edwards exposed his players to the area's powerhouse teams at the Curly Licklider Invitational at Shenandoah Valley Golf Club. The team's six-man score of 522 was just behind Fauquier's 513. Heritage won the tournament with a 456 just ahead of Loudoun Valley's 462.
    Edwards has had to adjust to his new players after saying 'goodbye' to his dominant seniors who recently graduated.
    "We lost Patrick Turnure, Garrett Moore, and J.R. Mills, and they were all in my top six last year," said Edwards. "They were good senior leaders for the team, so we're going to have to have some of our juniors step up and become leaders, which I think they will."
    Sophomore Reece Massei took home a silver medal, shooting a 74 over the 18-hole course. Massei tied for second place in his division, impressing his coach.
    "It's a very hard sport because you're an individual and you're out there on your own and there are no timeouts," said Edwards.
    Just after the opening tournament, Massei shot a school record of 69 at a Northwestern District tournament at Fauquier Springs Country Club on Aug. 14. Massei's score was two below par for the 18-hole course and led the team to its first victory of the season.
     "Reece is starting out really, really high just as a sophomore, and that's a great sign," said Edwards.
    The rest of the starting lineup performed well at the Licklider Tournament too. Cougar golfer No. 2, junior Jack Mills, shot an 85, while No. 3, junior Hunter Anderson, shot an 86, and No. 4, junior Jacob Rader, shot an 88.
    "The top four are a tiny bit ahead of my five and six players, so the competitiveness has been or those five and six positions on the team," said Edwards. "As much as I can get them on the golf course they're qualifying for that position, so that's going to be a healthy thing, that's going to make the team tougher and more resilient."
    Edwards believes his players will only get better after experiencing more tough situations, both in practice and in competition.
    "This year I feel like we've got a good group of kids that all kind of push each other," said Edwards. "There's going to be some sad times because some people aren't going to make tournaments when they think they should but it's good for the team, it's healthy for the team. We're going to have a lot of good dog fights in practice with kids trying to make it to the top six, and I think the kids are going to really start to understand what it takes to play competitive golf."
    As for the girl's team, Edwards believes there are a few players trying to climb their way to the top of the starting lineup ladder.
    "We're building a really good ladies program, and I'm very proud of that," said Edwards. "Ellen Allen has come on with me this year as my assistant coach to help with making sure that my girls can get even more experience this year. I see a very exciting season for them going into their regional tournament."
    Returning juniors Harper Crater and Peyton Fiel add to the depth of the team.
    Moving forward from the 2016 season was a challenge for Edwards, but he is now focused on helping his players succeed.
"This year I think we're going to have a healthier team," said Edwards. "I'm very confident that we will get better each tournament, each week and each day of practice. This year's group is going to have to fight really hard to become good, and I think it's going to be really good for them."
Leave a Comment