Halfway: Winless to Undefeated
Porterfield takes Cougars on a 6-1 run to start the season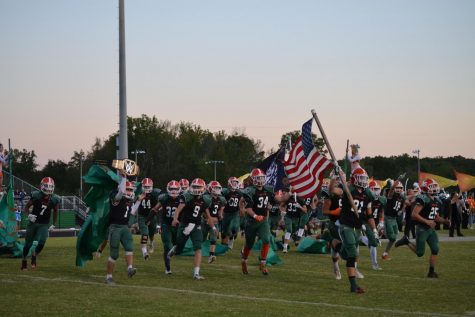 From 0-5 to 6-1, football coach Charles Porterfield is midway through his second season at Kettle Run and had already faced the best and worst case scenarios at the halfway point of a season.
Porterfield lost the bulk of his 2016 team to graduation (19 out of 37 players), including four key players in his defense. Filling the voids are new starting corners Zander Dinicolantonio and Chance Morrison. "They both replaced senior starters and took it upon themselves to be better players," said Porterfield. "Those two have been a huge part of our early success here."
A different atmosphere in the locker room correlates to the field, and players and fans alike have noticed a change within the team. "Our team has a bond this year unlike anything I've felt within a team," said senior captain Andrew Pickett. "Whether it be the jokes in the locker room or being there for each other in times of need, we're more than a team. We really are like a family."
After missing his junior year due to injury, senior Jarrett Little has come into his last year of high school looking to put up the stats to make up for his injury. Little has put up 25 tackles in five games and received defensive player of the game against John Handley on the 22nd Senior Chance Morrison has played an integral role in Porterfield's defense, shutting down receivers almost six inches taller than the 5'7" corner.
"There were so many teammates at the offseason training sessions," said Morrison. "It definitely helped us, not only skill wise, but also with team chemistry."
"You don't win football games in October and November unless you have dedicated yourself to getting better in June and July," said Porterfield of the offseason work. "Our players took it upon themselves to work to be a better team is all aspects of the game."
In his third year as a starting quarterback, senior Casen Chumley has experience in chasing the postseason.
"The rest of our schedule is challenging, but it doesn't scare me. We may be facing good teams, but 'we' are a good team as well," said Chumley.
Pickett had similar opinions on the topic, saying, "I don't pay attention to the strength of our schedule. We're a good team and we've proven that thus far. As long as we continue to play our game and focus on ourselves, we'll be just fine."
Just like any football team, Kettle Run has had some trouble with injuries this season. "We've had a lot of kids step into roles they hadn't previously performed in this year," said Pickett. "Trevor Yergey has had to step step in and play outside linebacker together when we needed him and that's been huge."
"Yes, we've lost some players due to injuries and other things, and obviously they'll be missed," said Chumley. "We would love for them to be out there with us on Friday nights, but as a team we have to be able to move on, and we will."
After their first loss of the season to Millbrook Porterfield doesn't seem the slighest bit phased.
"As long as we continue to win, then the playoffs will take care of themselves. As cliche as it may sound, we are taking this season one game at a time," said Porterfield. "I hope that when people watch us on Friday nights they can see how much passion we have for this game at Kettle Run."
Leave a Comment