Underclassmen Running the Show
The cross country team is seeing improvement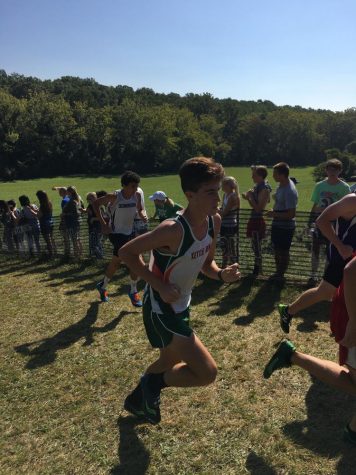 The Cougars are running their way into the postseason. With the help from underclassmen talent, the cross country team is seeing much improvement in meets right as the season is coming to a close.
Filled with a vast majority of underclassmen, the team is young and rebuilding after losing some of its top senior runners.
Head Coach Stephen Rhodes does not see that as a problem for the team.
"The team has come back fairly well this year," said Rhodes. "Obviously you lose some great runners who had low times, but we have had a lot of people come back who trained hard over the summer. The addition of a lot of freshmen has definitely filled the gap."
Senior Max McManus does not mind being one of the only upperclassmen on the team.
"It can be tough sometimes, but it comes with some nice benefits," said McManus. "[Coach] Stephen trusts me more to go out and workout separately with Mateo [Barreto] sometimes. I think I can also provide some experience for the newer runners."
Agreeing with McManus, senior Adia Diaz has no problem with being one of the few top dogs.
"Being the only senior girl on the team isn't bad," said Diaz. "I really miss the close group of seniors we had last year, but the new kids are really sweet. It's just weird because I was always used to being the younger one."
As a whole, the runners' times are getting faster and faster, and the team bond is stronger than ever.
"The season is going pretty well," said McManus. "We've been working really hard these past couple weeks to get ready for our meets."
The leading runner on the team, sophomore Mateo Barreto, agrees with McManus.
"I feel our team is doing great in terms of improvement from our first day out as a team," said Barreto. "We have definitely improved in our 'Wednesday meets.' I feel we could be a contender for our local top three teams. Our team has a lot of potential and the success will only come with time."
Barreto is currently at the top of the leaderboard. Barreto qualified for the 2017 New Balance Nationals indoor and outdoor meet, and recently broke the school 5K record at the Oktoberfest Invitational with a time of 16:25.
Leave a Comment