A Preview of Winter Sports
Coaches look to fill spots during winter tryouts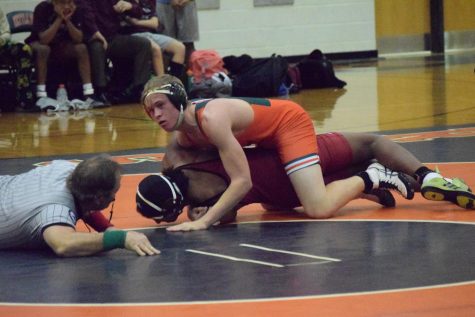 The winter sports season has just begun and athletes and coaches are working hard to prepare. Players have been hitting the weight room and putting in some extra practice to get a jump start on the season.
"We have a wrestling club team that practices two nights a week to prepare for the upcoming season," wrestling coach Michael Foy said. "Also, a good number of the wrestlers play football, so I know they are staying active."
Girls basketball players have also been hard at work.
"We have many after school open gyms for the girls and weight room activities," girls basketball coach Ellen Allen said. "Many of the girls have shown up to the after school activities so I am confident that they are very determined to have a good season."
Swim coach Cherie Adair is looking forward to the season.
"As soon as we wrap up tryouts, I will start with a lot of teaching and reviewing strokes," Adair said. "We don't have a lot of time before our first meet so training will jump in high gear quickly."
When it comes to tryouts, coaches know what they want to see in their players.
"All I ever look for in my wrestlers is heart," Foy said. "If you have a lot of heart, you'll do just fine. Also, we look for work ethic, discipline, determination, and as I said before, heart."
Coach Allen said she looks for players who are good sports and role models for other students.
"If each player comes to practice with a good attitude, then the season will be great," Allen said.
"I look for a great attitude and coachability," Adair said. "I also look for athletes with a great work ethic and a good 'feel' for the water. A winning attitude goes a long way."
To strengthen their chance of making the team, there are things players can be doing.
"To prepare themselves for the season, wrestlers should be running, lifting, watching video, and coming to any off season practices they can," Foy said.
"They should going to the open gyms and running or shooting around during their free time," said Allen.
"I would love for my swimmers to be in the pool training on their own," Adair said. "Strength training and mobility work is highly encouraged."
Leave a Comment