Sports Team Rivalries
The teams the Cougars look forward to playing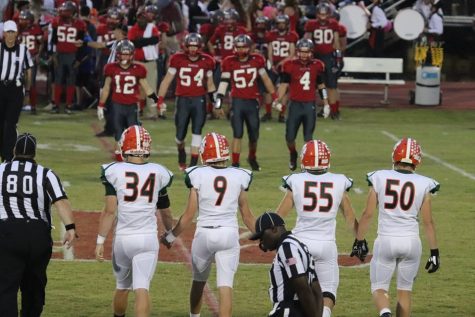 For as long as there have been school sports, there have been high school rivalries.
According to an article in New York Magazine, rivalries happen when competitors are similar in rankings, face each other in multiple settings with the same goal and are evenly matched. Over the past ten years rivalries have been established for different sports teams. Varsity football has had a successful fall season defeating two of it's biggest rivals, Fauquier and Liberty.
"Any time you have an opportunity to play a county school it becomes a huge deal," Charles Porterfield, varsity head coach, said. "Everyone who lives in the area tunes into the games and wants to see the outcomes of each game."
On October 20, the varsity team beat Liberty for the second time in school history, the only other win came in 2011.
"I am a big believer in playing talented teams," Porterfield said. "Having the opportunity to play a team, such as Liberty's, every year is a great honor for our program."
Porterfield believes that playing rival teams makes his team better.
"Just like Sherando High, they help to challenge us to play better," Porterfield said.
When it comes to volleyball, the biggest rival is Fauquier.
"Most of our girls know these other players because they play on the same travel teams," Janelle Sutliff, varsity volleyball coach, said.
"Fauquier is definitely the biggest rival," freshman Mae Sutliff said. "In the past, it's been a pretty even match up."
Golf players say their biggest rival is Fauquier.
"We always want to beat them," junior Max Stevenson said.
Boys basketball is gearing up for its season and like all the other teams, the two teams they are looking forward to playing are Liberty and Fauquier.
"With both of the other in county schools acting as our biggest rivals, whenever we play Fauquier or Liberty, records go out the window," David Noonan, freshman coach, said. "It doesn't matter how talented either team is going into the game. We know it's going to be a tough one, there is so much emotion in those games that it always comes down to the intangibles and the desire to win."
Although rival teams are the most exciting part of the season, varsity coach Troy Washington said there are other teams he is looking forward to seeing on the court.
"All the Winchester schools have been put back into our district," Washington said. "I can't wait to play against schools such as, John Handley and Millbrook again."
Leave a Comment