Boys Basketball Bound for Glory
Cougars look to fill holes left by 2017 graduates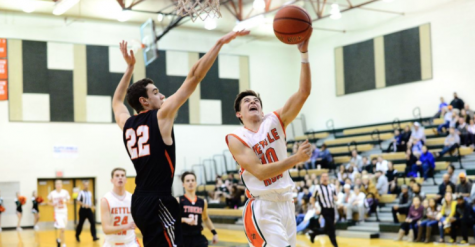 With Coach Troy Washington at the helm, Cougars boys basketball strives to build off of last years successful postseason run. With five returning juniors, the cougars look to fill the voids left by last year's six seniors. After finishing the 2016-17 season with a record of 16-6, the young squad is looking for no less this year.
Coach Washington doesn't want to jump to any conclusions so soon with any team.
"I do not know if we can match last year's success. That team won the most games in the history of our program and really did some tremendous things," said Washington. "That was a veteran team and from last year's group, we only have 2 returning players. Yet, I do like this group and I think whatever they set their minds to in terms of achievement, that it can happen."
With only two returning seniors on this year's squad, Washington will be looking towards them for leadership throughout the winter.
"I feel this won't be any different than last year's team," said senior forward Max Delsignore. "Yes, we are a very young team, but we have a lot of potential. I feel like I can lead by example, but being a better team leader is something I am constantly working on."
Senior CNU commit Tyler Trimble has similar ideals looking towards the season.
"It's a new start," said Trimble. "We are an extremely happy, competitive, and passionate team. We are seen as underdogs this year after losing five seniors, but we're going to shock some people."
"I think our depth will be a big strength this year," said Washington. "Mainly our guards. There's a ton of depth there for us and hopefully our play from our guards creates some tough decisions on game night as to how much these guys play. Ultimately we want to be competitive and compete for a regional bid. We want to be playing our best basketball in late January and February when the playoffs roll around."
The seniors are also looking to make the most out of their last season with the cougars.
"I would like us to win the the region as a team," said Trimble. "Personally, I would like to be All-State. We all all play well and compliment each others' games. It's going to be an extremely fun year."
"For myself, I just want to work on being a better leader," said Delsignore. "Team-wise, I'd like to see us win the region and beat Liberty and Fauquier. I think that those are goals for every person on the team."
Boys basketball will have a tough time ever matching their record setting 2016-17 season, but this group of young players feels that they have the talent and will to get it done.
Leave a Comment