Volleyball sets up new program
Varsity team takes a new approach to the season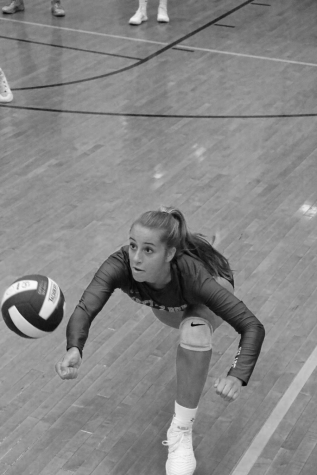 Volleyball sets up the revamped program with a 9-7 record. The team continues to work hard and have had a new mindset this season. The varsity squad has had major improvements this season as opposed to last season.
The team has a new head coach this year the team has a more focused mind and have better attitudes going into each game. Junior Kate Pohlmann said
"There is a major improvement as far as focus and attitudes from last year." senior Lily McIntyre added. "Having a new coach has brought a new mentality on the program. We also have only seven returning players so that means we pretty much have a whole new team."
The volleyball program has had a huge improvement this year with new players and new coaches.
Junior Cassidy Perino said "I think the program is very well put together and has very good coaches who dedicate a lot of their time to the teams. The girls are like family to me; They made me feel very welcomed and embraced me when I first came over the summer and I could not be happier with the team."
The team has had more success this year than in year's past with a better attitude and a focused mind.
Junior Faith Schaefer shared, "We are all working well together this year, I think it's important to realize that yes, we are a family and yes, we work well as a unit. We all try to keep the best attitudes on and off the court. We're all really supportive of each other and I love it."
The team's biggest rival is Fauquier High School, this year the outcome was different than in year's past. The team beat the Falcons 3 sets to 1.
Schaefer reminisced, "Beating Fauquier was so awesome; It was definitely a night to remember, especially for the seniors."
"The team has had great success this year and are determined to work hard." Pohlmann said, "The difference between this year and last year is that we have a tougher mindset this year and are determined to win each and every game."
While the team is focused on winning each and every game, they try to take each game at a time and don't dwell on the past games.
McIntyre said, "We definitely are more focused this season I think because we had a set goal of being top 3 in the district by the end of the season." she said. "We are in a good position to achieve that goal and we also have better attitudes as a whole unit."
Overall the team is having a great season and continue to put in the hard work both in and out of season, which aides them to be determined to win.