Building a Team One Stroke at a Time
A captain's perspective on the swimming Cougars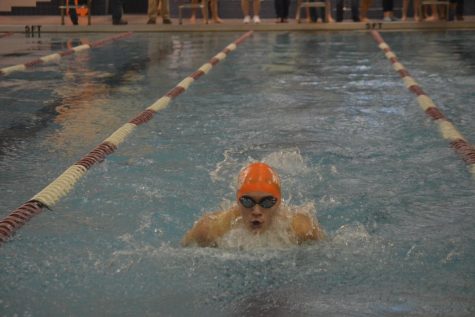 Standing on the block before each race, I feel the impact Kettle Run Swim Team has had on me.
I feel a confidence I never had prior to joining this team.
Over the last four years, my coaches and teammates have shaped me into the person I am today. I know I am far from alone in this sentiment. Swimming is a sport that requires constant dedication. Each year, I have seen new faces come and go because they weren't willing to commit, but those who stick around are some of my best friends. We practice together, struggle together, and celebrate together.
Although it is an "individual" sport, we all raise each other up. I used to be very critical of myself. I was frustrated when I felt I hadn't swam well. Coach Cherie and Coach Sutliff helped me find the victories in everything I do. Even after having my goggles fall from my eyes to my mouth and gaining considerable time on a race, I can count on hearing, "Way to push through!" and "Great swim!" from every team member.
No one is perfect. Not one swimmer always makes a personal record, but every race and every practice can still be a win if you put forward your best effort. The feeling of pure exhaustion after a race or a practice is a welcome feeling. It's the feeling of accomplishment.
Cherie pushes all of her swimmers to their limit and beyond. She encourages us to embrace discomfort. Most days, swimmers leave the pool with cherry red faces, heaving lungs, and sore legs, yet maintain smiles as they walk out the door. No matter the skill level, any swimmer will attest that Kettle Run's team has helped them grow. Some have been swimming for years while others are new to the sport; but that doesn't matter. As long as you have a good attitude and are willing to put in the hard work, you can succeed on this team.
We have already seen great success this season. After just three meets there are numerous regional and state cuts and I anticipate even more in our final meets. Coach Cherie and Sutliff continue to work us extremely hard. I know for a fact that my last meets will be memorable ones. It is an honor to be one of the captains of the team that I love. Motivating and leading my friends has made me incredibly proud.
To all my fellow swimming seniors: thank you for laughing, crying, and cheering with me these past four years. We've made memories to last a lifetime, and I will never forget your boundless friendship.
To Coach Sutliff: your constant smile and reassurance has done wonders for all of us. Whenever anyone shows signs of giving up, you're there to remind us that we are all capable of anything we set our minds to.
And finally, to Coach Cherie: I had never dreamed of the success I've had on this team, but you made me raise my expectations for myself. You inspired me to work my hardest just as you have inspired the entire team to push toward greatness. If you're looking to discover the best version of yourself and for unbreakable friendships, look no further than Kettle Run Swimming team – but be ready to work for it.
Leave a Comment