Shedding Light on the Civil Rights Era
Participants return to share their story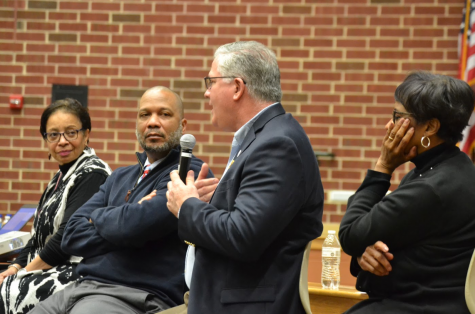 The junior class got a lesson on civil rights from those who experienced it first hand.
On Tuesday, Feb. 5, juniors gathered in the auditorium for the "Civil Rights Roundtable" where they listened to panelists share their experiences regarding the fight for civil rights. U.S. History teacher David Kuzma organized the event.
"We wanted to provide a general understanding of the Civil Rights Movement at the national level," Kuzma said. "More importantly, we wanted students to hear from those who had dealt with discrimination in a positive way. We also wanted students to have the chance to hear authentic stories from people who live in their own communities."
The panelists were Dr. David Jeck, superintendent; Major Warner, associate superintendent of instruction; Dr. Sandra Mitchell, retired associate superintendent of instruction; John Harrison, retired Liberty High School principal; Ben McCartney, retired FHS government teacher; John Thompson, retired physical education teacher; and his wife Robyn Walker Thompson, a retired elementary school teacher. Bob Jacobs, retired Fauquier High School teacher, was the moderator.
Jacobs kicked off the event by asking about events in the panelists' lives that may have opened their eyes to the racial divide in the country. Mitchell spoke about her experiences as one of the first six African American females to attend a desegregated school.
"I remember my father led me through a sea of people," Mitchell said. "There was another fourth grader who was white and they separated us. I remember feeling very very alone."
Warner shared his experiences with racism in local restaurants.
"This was in the spring of 1984 when restaurants didn't serve people of color," Warner said. "We went in single file. The owner came out and said 'I'm not going to serve you.' It was the first time in my life that I had ever been denied anything."
Junior Lillie Grimsley said the story that stood out the most was the one with the mule.
"Mr. Harrison told a story about working in a tobacco field," Grimsley said. "He had a white mule named Queen, and he started to hit it with a rope. Just then, two 18-year-old white boys jumped out of a truck and started running towards him yelling at him not to hit a white mule."
McCartney said he hoped students would walk away with the message, "Think before you speak," McCartney said. "It's your generation that has to make it work. We have to be able to hear each other out."
The panelists suggested students should strive to create change and steer their peers in the right direction.
"I hope students came away with an understanding that racial discrimination and other kinds of discrimination, based on fear and ignorance, existed in this county in the not too distant past," Jacobs said. "I hope also they came away struck by how racial, gender, and religious differences should never blind us to our common humanity."
Leave a Comment